Current and Past Exhibitions and Events
EMERGING 4
Exhibition Dates: January 15–February 27, 2010
Opening Reception: Friday, January 15, 6-9 pm
Closing Reception: Friday, February 19, 6-9 pm
Featuring:
Tyler Beard
, Ben Dayton, Linda Lopez,
Austin Parkhill
, Alex Perrine, Lindsay Pichaske, and
Allie Pohl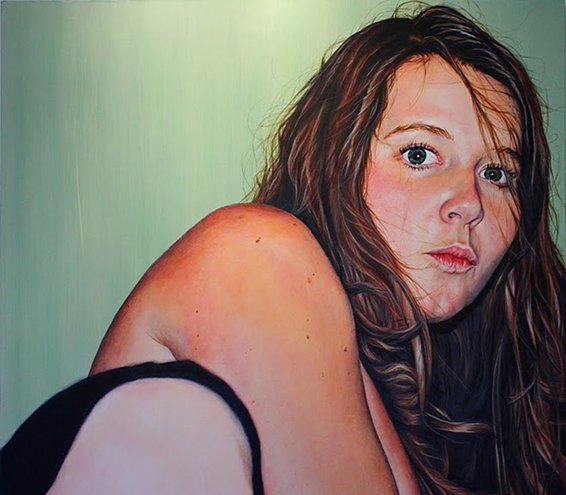 "Reine", 54x54 inches, Acrylic on Canvas, 2010 /
Austin Parkhill
Lindsay Pichaske
Linda Lopez
"Bears" /
Tyler Beard
Ben Dayton
"Female" (small) / Alex Perrine
"Ideal Woman: Astroturf A and B" /
Allie Pohl
Curated by Robert D. Garner (who is also an emerging artist), the fourth annual Emerging Artist Show at VERTIGO features the talents of Tyler Beard, Benjamin Dayton, Linda Lopez, Austin Parkhill, Alexander Perrine, Lindsay Pichaske, and Allie Pohl. I am really looking forward to this one — it has been a big challenge and there is a very interesting connection that runs through the work.
Press Coverage
Read a review of this exhibition
by Denver Post Fine Arts Critic, Kyle MacMillan. The Signtologist
commented on the exhibition and has additional photos
of the work.
---
In the House of Your Tomorrows: New Work by Alvin P. Gregorio
Exhibition Dates: November 6–December 12, 2009
Opening Reception: Friday, November 20, 2009, 6-9pm (The artist will be present)
Alvin P. Gregorio collaborates with guest artists Mike Bernhardt, Amber Britton, Donald Fodness, and Anna Harber Freeman to create an environment that lies somewhere between the Villa Villa Kula of Pippi Longstocking (the place Where the Wild Things are) and indigenous bamboo hut villages of Gregorio's Filipino ancestry. These artists have created visual expressions revolving around family history, the complexities of parenthood, and the cyclical nature of karma.
About the Artist
Alvin Pagdanganan Gregorio was born in 1974 in Los Angeles to immigrants from the Philippine Islands. He received his MFA from Claremont Graduate University in 2000, and soon after conducted cultural research in the Philippines on a Fulbright Fellowship. He is currently an Assistant Professor of Painting at the University of Colorado at Boulder.
Artist's Statement
In the House of Your Tomorrows
By
Alvin P. Gregorio
"
Because I said so!
" I cannot even begin to count the times he used this
reason
for not allowing us to do something. What the f@ck does that phrase mean anyway? As a younger person, it seemed rude, and thoughtless, and just plain mean. Now, as I am a new father...I get it. I actually get it.
No matter how much I am refusing to agree with that way of thinking, I actually understand. It's not that he didn't have a legitimate reason; it is just that sometimes parents don't have the energy to go into why we worry. It is often irrational and a bit paranoid. Although, I'm starting to realize that the wall many of us have built around our emotions as a protective barrier or defense mechanism doesn't just instantly end with the borders of our own physical bodies. That metaphoric wall somehow, someway encapsulates our offspring. How could it not? We are
together
for better or for worse.
My father has seen and experienced more than one person should have. I will spare you with the details, but when I say that
my father has seen and experienced more than one person should have
IT IS AN UNDERSTATEMENT. And so did his father, and so did his mother, and so did my own mother and so did my own sister, and so did I. So did I.
I am learning more and more how we inherit our familial trauma; it is passed down through our own actions, and energies, and through stories, and memories. If we do not resolve our painful memories, we gift them to our offspring. The protective wall that was formed to protect us now is the very culprit that suffocates and strangles our offspring. This sounds a lot like how I understand
karma
.
So what do we do? What can
I
do to protect my child from the pain and suffering that is his birthright? Can I overcome generations of unresolved sorrow? How do I create a door within my protective wall so that hand in hand, my son and I can turn that knob and push open the door within that wall that will inevitably destroy us both? How can I resolve the inherited trauma, as well as my own? I cannot do this alone; I need his help.
He is less than two years old. How can he help? I am hoping that his smiles, and his cries, and his tears, and his laughter will nourish me when I no longer have the strength to fight this battle. I
want to
need to build him a House for his Tomorrows. Where he can be freed of the burden that has plagued my beloved family. Where he can live with his own family, away from the yesterdays.
---
MIA MULVEY ~ NEW WORK
Exhibition Dates: September 4–October 31, 2009
Opening Reception: Third Friday September 18 6-9pm, 2009
Closing Reception: October 16th, 6-9pm
Artist's Statement for NEW WORK
This body of work is taken from 3-dimensional prints of actual biological specimens. Replicating anatomy that is "true" and tied to a once-living, individual animal has been central to this work. These animals exist as X-ray CT scans of specimens in the Digital Morphology Library at the University of Texas in Austin. The 3-D scans were then printed on a 3-D printer and/or CNC milled out of foam and reproduced in porcelain.
The animals I have chosen to work with are all protected and thus threatened in the wild. They represent a larger population of animal species and their current status in the world. As humans, our views of these animals, and all of nature, is most often as a place "out there", limitless and enduring. Our views are also often cluttered with romantic notions of exotic travels and attractive museum displays.
Our world's animal population is dwindling due to the fragmentation and loss of habitat from deforestation, farming, human encroachment, hunting, and climate change. These works deal with the ideas of beauty, collection, extinction, death and ultimately our relationship with nature.
Press Coverage
Read a review of this exhibition
by Denver Post Fine Arts Critic, Kyle MacMillan.
Listen to an interview with the artist
as the featured guest on The Untitled Art Show with hosts Erik Isaak and Michael Keen.
---
Previous Exhibitions »