Current and Past Exhibitions and Events
Scott Henderson and Lindsay Pichaske
Exhibition Dates: 24 November–18 December 2010
Reception with the Artists: First Friday, 3 December 2010 (6–9 pm)
Third Friday Reception: 17 December 2010 ( 6–9 pm)
After the Prowl
Scott Henderson
Trained at the School of the Art Institute in Chicago, and at the University of Central Oklahoma, Scott Henderson lives and works as an artist in Oklahoma City. He works in collage and mixed media with a focus on fantastic themes in correlation with self identity.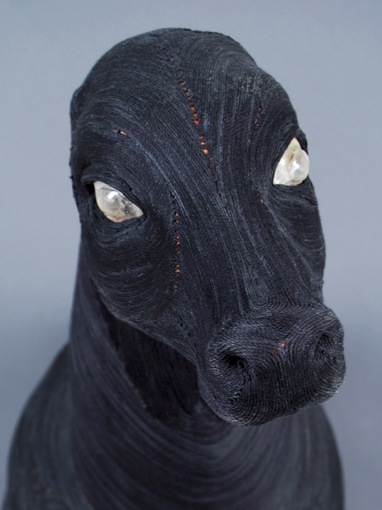 The Masking Game (detail)
Lindsay Pichaske
On a like minded pondering of identity... Lindsay Pichaske (a recent MFA candidate from CU Boulder) asks the question, "What separates human from animal?", stating that, "I create animals that blur species boundaries with each other, and with humans." Pichaske's sculptural style is full of juxtaposition between (self) perception and the issue human condition.
---
Dorothy Tanner ~ The Light Fantastic
Exhibition Dates: 22 September–13 November 2010
Reception with the Artist: Third Friday, 15 October 2010, 6p–10p
"Light has the power to create, define, and solidify; or leave in shadow that which we believe to be real." br>   —Dorothy Tanner
About the Artist
Dorothy Tanner exhibits a lot of optical nerve. While experimenting with a vast array of media in her career as an artist, she has found acrylic to be the most rewarding. It is a material that she may sculpt, paint, sandblast, or bake and shape. Some are wall sculptures, some free-standing or hang from the ceiling, while others are water sculptures. Light is an intrinsic element of the art form. LEDs have been the primary source of lighting the works in recent years.
While each sculpture stands alone as an art expression, Dorothy's interest is to integrate the works into a total environment — installations that express a powerful visual and emotional sensibility. Her collaboration with Marc Billard creating electronic music and video adds another element to an otherworldly experience.
Artist's Statement: "The major challenge for me in art is to keep under control the tyranny of a logical mind. The spirit that moves me is capricious, unruly, and irreverent. Most of my work grows out of intuitive impulse — the rest gets underway by just playing."
Visit the artist's site for more information and photos.
Press Coverage
VERTIGO Art Space is excited to present this exhibition as part of Denver Arts Week. Read a review of the exhibition by Ben Dayton of Westword.
---
One Point Twenty-One Jiggawats
Exhibition Dates: 4 August–17 September 2010
Closing Reception with the Artists: Third Friday, 17 September 2010, 6p–10p
Artists Jason Sheppard and Scott Raby use materials and imagery which are egalitarian, favoring the shapes, textures, and forms found in a pedestrian landscape. Despite this, both artists have drastically different approaches to this working style; one clean, one dirty, one shiny, one rusted, one baroque, one understated.
While their work differs in outcome, it arises from a singular point of a disciplined energy which reshapes their everyday experiences into alarmingly opaque art. Despite using a lexicon of the daily, they transform signs and signifiers until they weave in and out of recognition, changing the familiar into the obscure.
In One Point Twenty-One Jiggawats, both artists will actively create and alter VERTIGO Art Space as a site to not only to reexamine the phenomena of the culturally banal but the unknowns and uncertainties in its collapse.
---
Previous Exhibitions »