Current and Past Exhibitions and Events
The Shape of Things To Come
Exhibition Dates: 23 June–17 September 2011
Closing Reception: 15 September 2011, 5–7 pm. Many artists will be present. Hosted by Kara Duncan with Anders Ruhwald.
Featuring works by Anna Adler, Inkyo Back, Lauren Cherry, Jessika Edgar, Devin Farrand, Ariel Herwitz, Richard Hesketh, Anders Ruhwald, and Erin Yuasa. Mixed media works by recent ceramic MFA Graduates from the Cranbrook Academy of Art.
Anders Ruhwald will be a featured guest on the untitled art show Wednesday, September 14th, discussing both his work at the DAM as a part of the "Overthrown: Clay Without Limits" exhibition and his role in the current exhibition at VERTIGO Art Space. Also please note summer hours for this show. Featured gallery co-ordinator for the summer is Tracy Tomko.
---
Michael Bernhardt ~ Ideas All Day
Exhibition Dates: 20 April–28 May 2011
Preview: Vertigo will stay open until 8 pm for a preview of the show on Friday, 22 April 2011
Artist Reception: Thursday, 28 April 2011, 6–9 pm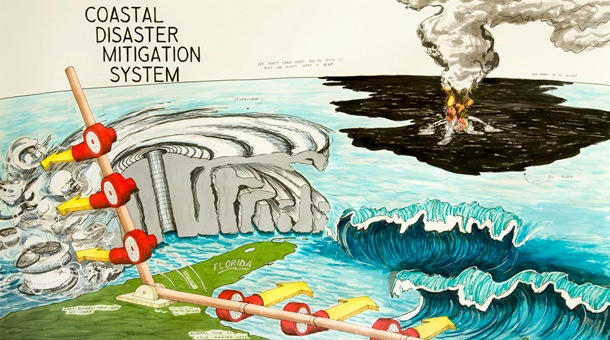 About the Artist
Michael Bernhardt was born in Fort Collins, Colorado in 1975. He graduated with his BFA from Colorado State University in 1999 and went on to receive his MFA from the University of Colorado at Boulder in 2009. His work has been shown nationally and internationally, including Xiao Shan Xiao in Kaifeng, Henan, China in 2010. His work has been published in the October 2009 edition of New American Paintings and in Propeller Magazine with the collaboration Barchael. Bernhardt is currently an affiliate instructor at Metropolitan State College of Denver and an adjunct instructor at the University of Colorado at Boulder.
Photos by James Beard
Press Coverage
Read a short review of this exhibition, with additional photos, by Ken Hamel of DenverArts.org.
---
Month of Photography: Double Diptych
Exhibition Dates: 2 March–15 April 2011
Reception: Thursday, 3 March 2011, 6–9 pm
Casual Artist Talk, hosted by CPAC: Thursday, 14 April 2011, 7 pm. Featuring Ian Fisher, Greg Friedler, Conor King, and Kate Levy. Followed by an informal mixer for questions.
Curated by Rupert Jenkins for the Colorado Photographic Arts Center (CPAC)
Artists: Monique Crine, John Davenport, Ian Fisher, Cinthea Fiss, Greg Friedler, Conor King, Kate Levy, and Edie Winograde (courtesy of Robischon Gallery)
To celebrate Month of Photography Denver, Double Diptych brings together eight of Denver's most innovative artists who work with photography. The theme of the show is self-explanatory: each artist was invited to present two diptychs that reflect their ongoing interests. In this show, the diptych operates in two distinct ways: as subjective reading of an assumed narrative, and as evidence of the artist's creative source.
Monique Crine, Ian Fisher, and Greg Friedler each use the photograph as source material for their portrait drawings. Fisher uses family snapshots to draw isolated portraits of his grandfather; Crine's subject is a neighborhood child, whose world she regularly photographs; and Friedler transforms studio nudes into almost-primitive pencil-and-ink renderings. Cinthea Fiss presents a video split-screen as well as a pair of related photographs that collectively recollect San Francisco's punk music scene in the 80s; Conor King uses digital technologies to create a link between past and future Arctic explorations; John Davenport, Edie Winograde, and Kate Levy each construct more traditional photo-diptychs: Davenport pairs a distressed glass-plate image with his younger self; Winograde returns to her investigations into restaged American battles; and Levy juggles images from several ongoing documentary series.
Press Coverage
Read a short commentary on this exhibition by Denver Post Fine Arts Critic, Kyle MacMillan.
---
Previous Exhibitions »