Current and Past Exhibitions and Events
Erik Isaac ~ Perfect Day
Exhibition Dates: 22 September 2011–8 October 2011
Artist Reception: Friday, 23 September 2011, 6–9 pm
On September 22nd Erik Isaac will become the Artist In Residence, showing his work, "Perfect Day", that explores the realities of what it takes to keep our complex world of human lives and interactions going. You are invited to join Erik at the Artist Reception on 23 September 2011, 6–9pm, and to the First Friday Reception on 7 October 2011, 6–9pm.
Erik works with concepts that can easily go unnoticed, but are the fundamental part of everyday experience of being human. A field-day first prize ribbon holder for long jump in grade school, Erik illustrates that first place is not just what it appears to be on the surface with his work, "1ST PLACE *". The work explores the childhood experiences of the all too desired first place ribbon, that transitions into the understanding of the commonality of awards and their relative value. Erik examines the underlying infrastructure of our daily existence with the common chore: laundry. He uses the only byproduct, lint, in his second work entitled, "Just Doing my Job Ma'am". Finally, "Utopian Rituals (a self portrait)" is a site-specific installation which takes on a personal note for Erik, an untraditional portrait made of daily checklists, illustrating the desperate desire for a perfect day.
Contact: Erik Isaac, 303-916-9970, conceptualart [at] erikisaac.com, www.erikisaac.com/conceptualart
---
The Shape of Things To Come
Exhibition Dates: 23 June–17 September 2011
Closing Reception: 15 September 2011, 5–7 pm. Many artists will be present. Hosted by Kara Duncan with Anders Ruhwald.
Featuring works by Anna Adler, Inkyo Back, Lauren Cherry, Jessika Edgar, Devin Farrand, Ariel Herwitz, Richard Hesketh, Anders Ruhwald, and Erin Yuasa. Mixed media works by recent ceramic MFA Graduates from the Cranbrook Academy of Art.
Anders Ruhwald will be a featured guest on the untitled art show Wednesday, September 14th, discussing both his work at the DAM as a part of the "Overthrown: Clay Without Limits" exhibition and his role in the current exhibition at VERTIGO Art Space. Also please note summer hours for this show. Featured gallery co-ordinator for the summer is Tracy Tomko.
---
Michael Bernhardt ~ Ideas All Day
Exhibition Dates: 20 April–28 May 2011
Preview: Vertigo will stay open until 8 pm for a preview of the show on Friday, 22 April 2011
Artist Reception: Thursday, 28 April 2011, 6–9 pm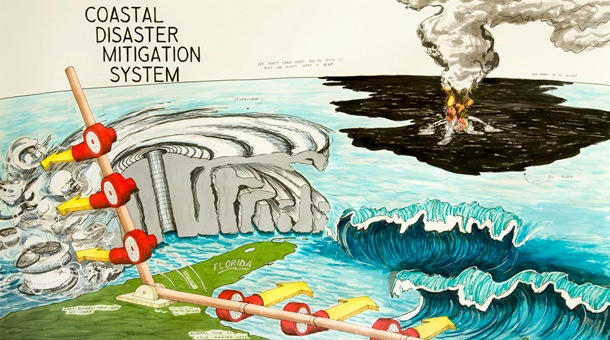 About the Artist
Michael Bernhardt was born in Fort Collins, Colorado in 1975. He graduated with his BFA from Colorado State University in 1999 and went on to receive his MFA from the University of Colorado at Boulder in 2009. His work has been shown nationally and internationally, including Xiao Shan Xiao in Kaifeng, Henan, China in 2010. His work has been published in the October 2009 edition of New American Paintings and in Propeller Magazine with the collaboration Barchael. Bernhardt is currently an affiliate instructor at Metropolitan State College of Denver and an adjunct instructor at the University of Colorado at Boulder.
Photos by James Beard
Press Coverage
Read a short review of this exhibition, with additional photos, by Ken Hamel of DenverArts.org.
---
Previous Exhibitions »