Current and Past Exhibitions and Events
Anthony Camera and Matthew Harris ~ The Cowboy is on the Left
Exhibition Dates: 6 April 2012–12 May 2012
Artist Reception: 3rd Friday, 20 April 2012, 6–9 pm
Featured Artist: Anthony Camera
Guest Artist in Residence: Matthew Harris, showing work for a limited engagement 12–26 April 2012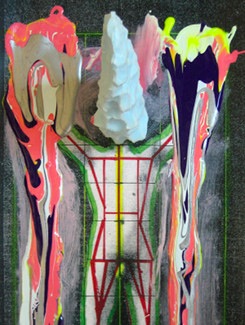 About Anthony Camera
Anthony Camera is a Denver, Colorado based photographer specializing in editorial and advertising photography. Camera's work has appeared in publications including News Week, TV Guide, Chicago Tribune, Psychology Today, Westword, and more. Camera has worked for clients such as Anheuser-Busch, Coors, Qwest, Sony, Cricket, Sun, Gambro, International Franchise Association, Leica, Cirsca, University of Denver, Iliff School of Theology and many more.
Anthony Camera's work has been described as "soulful images that capture his subjects with a brutal honestly."
And yes, Camera is his real name.
Artist Statement: The Universe is constantly evolving, slowly disappearing through entropy that is an integral part of its inherent system. With this notion in mind I am inspired by street art that allows the artist to display work without concern for its durability. I love the temporal nature of street art and its impermanence, the way the art erodes through time and exposure leaving only a memory of its impact on the place.
There is something about street art (wheat-paste photography in particular) that is fitting to my curiosity about entropy and time. As a photographer I capture moments in different settings that are sometimes constructed. However my images reflect the fleeting atmospheric conditions of humanity as it reacts—perhaps before the subject becomes aware of the photographer.
Straying from exhibitions I have had previously, the works I am currently exhibiting at VERTIGO are a series of portraits that provide a glimpse of this inspiration. There is an emotional component to my work that I find extremely appealing. I always strive to create an open, nonjudgemental relationship with my subjects in order to capture fleeting moments in the human atmosphere.
About Matthew Harris
Matthew Harris has been shot in the face with a musket in Mexico, pushed off a cobblestone wall by a horse in Spain's Sierra Nevada, and survived an earthquake in Peru. He has participated in such exhibitions as the 17th Annual International Ice Carving Festival in Harbin, China; a solo exhibition at the Hyde Park Art Center in Chicago, IL; and, most recently, "Transmission," a video exhibition at the Southwestern University of Visual Arts in Tucson Arizona. He currently lives in the mountains west of Boulder, CO.
Artist Statement: In projects as varied as coating a floor with corn syrup to dragging a friend across the desert, Matthew explores not only his physical relationship to the world, but also his mental relationship to it. In hopes of finding expressions that are not taught but discovered through actual experience, Matthew relies on his intuition in creating works that playfully question how society values time, intelligence, and beauty.
Dusk, a sculpture exhibited here, is directly inspired by one of Monet's paintings: Haystacks, (sunset), 1890–1891, oil on canvas, Museum of Fine Arts, Boston. Responding to more than Monet's subject matter and particular color choices, Matthew's approach echoes the Impressionists' push to free themselves from the execution of pre- imagined ideals and to react playfully to the changing qualities of the everyday world. In an effort to avoid static depictions of predetermined concepts, Matthew worries less about the solid details of a singular meaning for the work and focuses on capturing a momentary impression of his interaction in materials with all its fleeting, changing, and temporal qualities.
Press Coverage
Read a review of this exhibition by Tiffany Fitzgerald at Westword.
---
Artist-in-Residence Maggie Lawless ~ Same Ship, Different Day
Exhibition Dates: 16 February 2012–10 March 2012
Opening Reception: Friday, 17 February 2012, 6–9 pm
Attempting to provide a glimmer of societal self-reflection for the viewer, Maggie Lawless uses text and imagery from the Internet to attempt to capture the structures that promote and maintain entrapment, or domination and dependence, in modern society. Using formal techniques of collage, drawing, and painting, Lawless incorporates art historical references with details that intimately engage the viewer, while the symbolism and artistic techniques attract attention from a distance. Social, economic injustice and the structures that maintain these conditions are themes that occur throughout the work.
---
Another Way to Go: 6 Artists, 12 Directions
Exhibition Dates: 4 January 2012–11 February 2012
First Friday: 6 January 2012, 6–9 pm
Opening Reception: Thursday, 12 January 2012, 6–8 pm
Collector's Friday: 20 January 2012, 6–8 pm
First Friday: 3 February 2012, 6–9 pm
Presented by the Emerging Curator Series. Curated by Mike McClung.
Photos courtesy of Tiffany Fitzgerald at Westword
VERTIGO Art Space launches the new year with "Another Way to Go: 6 Artists, 12 Directions" developed by guest curator, Mike McClung. This show presents 2 pieces by each of the 6 artists – one piece from the body of work for which the artist is well known locally and one from a completely different series of work. Artists featured in this exhibition are Tyler Aiello, Phil Bender, Eric Michael Corrigan, Sangeeta Reddy, Lorelei Schott, and Jimmy Sellars. It is important to note that these artists are all represented by galleries outside of VERTIGO Art Space.
Curatorial inspiration for the show came from Mike's curiosity regarding the topic of artistic identity. A solid artistic identity can be a blessing for an artist, providing increased recognition and (ideally) increased sales. However, it can be a challenge, as the success of a body of work can impede an artist from moving in other directions with a change in media or technique.
McClung states, "As an artist, I am almost always associated with my burnout process, but I also explore other directions in different works using mixed media, photography, water color, etc. As I continued with the development of this show, I became more curious about tangents or diversions that other well-recognized artists take. I became fascinated with the balance between commercial success that recognition provides versus the potential for restricting creative exploration."
Mike is the third artist who has been invited to curate a show as part of VERTIGO's Emerging Curator Series.
Press Coverage
Read a review of this exhibition by Tiffany Fitzgerald at Westword.
VERTIGO Art Space was nominated in 3 categories for Art District on Santa Fe, Best of 2011: Best Solo Show by a Colorado Artist – Erik Isaac's Perfect Day, Best Group Exhibition – Double Diptych, and Best Gallery. See Art District on Santa Fe for more information.
---
Previous Exhibitions »