Current and Past Exhibitions and Events
Half the Floating World: Pangloss Gravitron
Exhibition Dates: 6 December 2012–29 December 2012
First Friday Art Walk: 7 December 2012, 6–9 pm
Artist Reception: Friday, 14 December 2012, 6–9 pm
Santa Fe Art District Collectors' Night: Friday, 21 December 2012, 6–9 pm
Closing Weekend Extended Hours: Friday, 28 Dec 2012, 2–9 pm & Saturday, 29 Dec 2012, 1–4 pm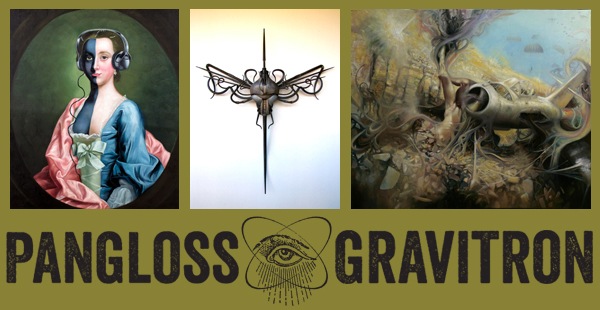 Inaugural Exhibition with Guest Artist Kieran Collins
Tracy Tomko is December's Artist-in-Residence. She will be debuting Pangloss Gravitron, a Denver-based artist collective. They begin their optimistic adventures with: Tracy Tomko, Meagen Svendsen, Mark Penner-Howell, CT Nelson, Patrick Loehr, John Haley III, and Erin Asmussen. For Half the Floating World they will be joined by Kieran Collins, from San Francisco. Kieran is the first of their efforts to work with artists from different areas. They hope to cross-pollinate their idea grounds and collaborate in more expansive ways. The title, Half the Floating World, is about reality creeping its way into our daydreams and leaving a trace of its weight on a joyful frolic.
Video of Blind Faith by Tracy Tomko
Pangloss
noun: One who is optimistic regardless of the circumstances.
adjective: Blindly or unreasonably optimistic.
After Dr. Pangloss, a philosopher and tutor in Voltaire's 1759 satire, Candide.
The name is coined from Greek panglossia (talkativeness).
Gravitron
A popular carnival ride that pins its riders against the wall with centrifugal force. The Gravitron attains a speed of 24 rpm, which results in 4G of gravitational force, causing riders to lift off the floor. The Gravitron is the fastest spinning amusement park ride and is considered to have a "High" thrill level.
Press Coverage
Pangloss Gravitron listed as "Ten people to watch in 2013" by Susan Froyd at Westword.
Read a review of this exhibition by Theresa Anderson.
---
Cycles and Stages: Stephen V Martonis
Exhibition Dates: 5 October 2012–29 November 2012 (regular hours)
Artist Reception: Friday, 19 October 2012, 6–9 pm
Gallery Talk for Denver Arts Week: Saturday, 3 November 2012, 2 pm
Stephen V Martonis blends natural and technological materials in reaction to perceived patterns in the natural world. He questions whether mathematical and scientific laws are governing principles for understanding life or causative elements that lead to deceptive readings by the human brain in attempts to define chaos. One of the oldest insects on the planet utilized prime numbers long before humans did. Selective breeding has led to the domesticated silkworm being unable to fly or survive without human care. By carefully selecting material as metaphor, Martonis creates a narrative about the human condition and how it relates to the natural world. It is a story woven from personal experiences and the detritus of his rural upbringing.
In Cycles and Stages, mother, father, son, and daughter become central representations upon which lie broader narratives of life and death, pattern and disorder, inner and outer. Bread dough becomes a metaphor for earth and nourishment. Silkworms were bred as symbols of fertility. Rusty barbed wire creates a wound, and beeswax becomes a balm. Through these careful material explorations, a larger environment is created, one that perhaps aids us in the never-ending discovery of our place in the world.
About the Artist
Stephen V Martonis was raised in rural western New York in the village of Silver Creek. He received a Bachelor of Fine Arts degree in Painting from the State University of New York at Fredonia and a Master of Fine Arts degree in Sculpture from West Virginia University. He currently resides in Longmont, Colorado, where he is the Exhibitions Manager for the CU Art Museum and a Lecturer in the Department of Art & Art History at the University of Colorado Boulder. He continues to exhibit nationally as part of his exploration of the creative process. stephenmartonis.com
---
Exposure 2012: Friendship Bridge in Guatemala
Exhibition Dates: 14 September 2012–28 September 2012
Hours: Tuesdays 11–4; Wednesdays 11–6; Thursdays & Fridays 2–8; Saturdays 11–4
Featuring images by award-winning photographer Ben Rasmussen through a program funded by Project Exposure, this exhibition is designed to bring attention to the poverty relief work of Friendship Bridge.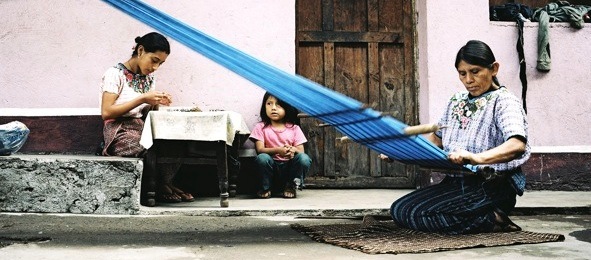 The photographs in this exhibition were selected from more than 500 images taken by Rasmussen during a one-week period as he traveled through the highlands and Lake Atitlan regions of Guatemala, chronicling the work of Friendship Bridge and featuring the women who benefit from microfinance and education programs. Over the course of the week, Rasmussen met and photographed the women and their businesses with an eye toward showing the resilience of the women at work, the harsh conditions of life, and solutions to poverty in his compelling images set against the Lake Atitlan countryside.
Project Exposure, founded by professional photographer Tim Ryan, matches nonprofits with pro bono photographers, then covers expenses for the photographers to travel to the countries in which the nonprofits operate and afterwards produces exhibitions of still photographs. The program is an outgrowth of Ryan's firsthand experiences working internationally for nonprofit organizations.
"We saw a real need to help small organizations that couldn't afford a professional photographer to document their work," says Ryan. "For the Guatemalan field assignment, now that Ben has returned with some spectacular images, we're getting these images in front of the public." Ryan has partnered with VERTIGO Art Space for a two-week show and, after the exhibition closes, the show will go on the road to communities around the country where Friendship Bridge has Friendship Circles of supporters. The organization will be able to use the images on its website and in its marketing materials, too.
A non-governmental organization that provides microcredit and education to Guatemalan women, Friendship Bridge helps create solutions to poverty through small loans, averaging $300 for four-to-twelve month terms, combined with lessons on business, health and self-esteem. In 2011, more than 14,000 Guatemalan women have been connected with opportunities to make strides toward eliminating poverty.
VERTIGO Art Space is donating the space for this exhibition.
About Benjamin Rasmussen
Benjamin Rasmussen is a freelance photographer based in Denver. Growing up in distant places around the globe with exposure to many cultures has given him a good eye for photographic images. "I spent my childhood with indigenous people on a Philippine island, my university years with evangelicals in northern Arkansas, and a year with the descendants of Vikings in the Faroe Islands," he explains. Rasmussen's work has been selected for the American Photography 26 Annual, shown at the Annenberg Space for Photography, and awarded in 2010 Pictures of the Year International. He has been chosen one of Photolucida's 2010 Critical Mass Top 50 and included in Magenta Foundation's Flash Forward Emerging Photographers 2011 list.
---
Previous Exhibitions »