Current and Past Exhibitions and Events
The BLOB-(ish): Uncertain times breed uncertain forms
Exhibition Dates: 10 January 2013–23 February 2013
Artist Reception: Friday, 18 January 2013, 6–9 pm
Artist Talk with Lauri Lynnxe Murphy: Saturday, 2 February 2013, 5:30 pm
Curated by Donald Fodness. With Mark Upson, Lindsay Pichaske, Bernardo Cantu, Yaloo Pop, Amber Farnell, Nicholas Hay, and Lauri Lynnxe Murphy.
The Blob is an indeterminable form that references the unknown in nature and its outer limits as well as the known cultural realms of science fiction and campy horror. It seems to have emerged from the collective imagination in relatively recent human history. The "ish" keeps the blob even more non-committal. The artists in this show create from vastly different contexts, but this show unites them under seemingly simple formal connections in the realm of biomorphic forms and organic shapes.
It is not form alone that connects these artists; the process of allowing a work to emerge or unfold rather than adhere to a rigid blueprint is a binding agent. These pseudo-basic ties are meant to highlight the contextual differences in each independent artistic universe as well as point to a general trend towards artists appreciating and proceeding toward unknown/unpredictable ends in their making process.
Some historians suggest that the 1958 movie The Blob was a subconscious metaphor for anxieties surrounding the Cold War. In the late 1960's and early 70's artistic explorations in anti-form paralleled radical shifts in socio-political consciousness. The pairing of these artists asks "what ramifications could the emergent popularity of this form imply in our current zeitgeist?" Another possibility is that the collective interest in this form reflects a desire for unbound freedom as much as any anxiety; perhaps there is no rigid answer and its roots reach wide grounds.
About the Artists
VERTIGO welcomes back local star Lauri Lynnxe Murphy with her first show after returning to Denver from living in Ohio for a couple years. Involving a quasi collaboration with bees, her recent work suggests anxieties around food production and the environment.
Bernardo Cantu (Denton, TX) colorfully mixes material signifiers of class and race identity with a neo funk blend of cosmic new-age spiritual humor forcing the viewer to access and face uncomfortable realities about social inequity.
Mark Upson (Los Angeles, CA) explores ideas about relativity, conceptions of time, and our evolving relationship with technology. His "clocks" are piecemeal machines often dependent on participation and tell time relative to the viewer. The sculpture in this show cycles as it breathes.
Yaloo Pop (Incheon, Korea/Chicago, IL) creates video and still collages that spew a plasma of image accumulation that suggests a digestion of the everyday, and video game objectives.
Amber Farnell and Nicholas Hay work as a collaborative team out of Boulder and imbue a frenetic playfulness with material and process. Hay's approach is aggressive, irreverent, and angsty. Farnell is more sentimental, poetic, and vulnerable. Collectively they are vibrant, experimental, fun, and funny.
Lindsay Pichaske (Washington, D.C.) carefully crafts paradoxical characters that are both beautiful and haunting, familiar and otherworldly. These grotesque humanoids hint at post apocalyptic traumas or alternate universes where the figure has no skeletal framework and slowly oozes as it scoots along.
Press Coverage
Listed in "Ten people to watch in 2013" by Susan Froyd at Westword.
---
Half the Floating World: Pangloss Gravitron
Exhibition Dates: 6 December 2012–29 December 2012
First Friday Art Walk: 7 December 2012, 6–9 pm
Artist Reception: Friday, 14 December 2012, 6–9 pm
Santa Fe Art District Collectors' Night: Friday, 21 December 2012, 6–9 pm
Closing Weekend Extended Hours: Friday, 28 Dec 2012, 2–9 pm & Saturday, 29 Dec 2012, 1–4 pm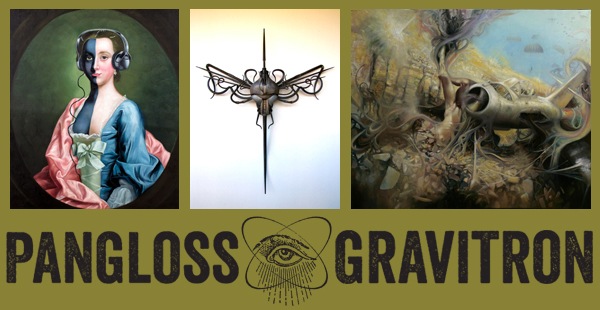 Inaugural Exhibition with Guest Artist Kieran Collins
Tracy Tomko is December's Artist-in-Residence. She will be debuting Pangloss Gravitron, a Denver-based artist collective. They begin their optimistic adventures with: Tracy Tomko, Meagen Svendsen, Mark Penner-Howell, CT Nelson, Patrick Loehr, John Haley III, and Erin Asmussen. For Half the Floating World they will be joined by Kieran Collins, from San Francisco. Kieran is the first of their efforts to work with artists from different areas. They hope to cross-pollinate their idea grounds and collaborate in more expansive ways. The title, Half the Floating World, is about reality creeping its way into our daydreams and leaving a trace of its weight on a joyful frolic.
Video of Blind Faith by Tracy Tomko
Pangloss
noun: One who is optimistic regardless of the circumstances.
adjective: Blindly or unreasonably optimistic.
After Dr. Pangloss, a philosopher and tutor in Voltaire's 1759 satire, Candide.
The name is coined from Greek panglossia (talkativeness).
Gravitron
A popular carnival ride that pins its riders against the wall with centrifugal force. The Gravitron attains a speed of 24 rpm, which results in 4G of gravitational force, causing riders to lift off the floor. The Gravitron is the fastest spinning amusement park ride and is considered to have a "High" thrill level.
Press Coverage
Pangloss Gravitron listed as "Ten people to watch in 2013" by Susan Froyd at Westword.
Read a review of this exhibition by Theresa Anderson.
---
Cycles and Stages: Stephen V Martonis
Exhibition Dates: 5 October 2012–29 November 2012 (regular hours)
Artist Reception: Friday, 19 October 2012, 6–9 pm
Gallery Talk for Denver Arts Week: Saturday, 3 November 2012, 2 pm
Stephen V Martonis blends natural and technological materials in reaction to perceived patterns in the natural world. He questions whether mathematical and scientific laws are governing principles for understanding life or causative elements that lead to deceptive readings by the human brain in attempts to define chaos. One of the oldest insects on the planet utilized prime numbers long before humans did. Selective breeding has led to the domesticated silkworm being unable to fly or survive without human care. By carefully selecting material as metaphor, Martonis creates a narrative about the human condition and how it relates to the natural world. It is a story woven from personal experiences and the detritus of his rural upbringing.
In Cycles and Stages, mother, father, son, and daughter become central representations upon which lie broader narratives of life and death, pattern and disorder, inner and outer. Bread dough becomes a metaphor for earth and nourishment. Silkworms were bred as symbols of fertility. Rusty barbed wire creates a wound, and beeswax becomes a balm. Through these careful material explorations, a larger environment is created, one that perhaps aids us in the never-ending discovery of our place in the world.
About the Artist
Stephen V Martonis was raised in rural western New York in the village of Silver Creek. He received a Bachelor of Fine Arts degree in Painting from the State University of New York at Fredonia and a Master of Fine Arts degree in Sculpture from West Virginia University. He currently resides in Longmont, Colorado, where he is the Exhibitions Manager for the CU Art Museum and a Lecturer in the Department of Art & Art History at the University of Colorado Boulder. He continues to exhibit nationally as part of his exploration of the creative process. stephenmartonis.com
---
Previous Exhibitions »