Current and Past Exhibitions and Events
Projections ~ New Work by Haley Bates
Exhibition Dates: 28 March–26 April 2014
The artist will be present on First Friday, 4 April 2014, 6–9 pm
Art Talk: Saturday, 12 April 2014, 3–4 pm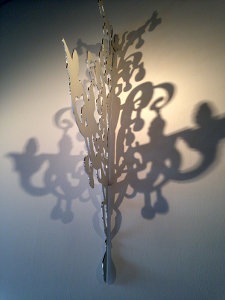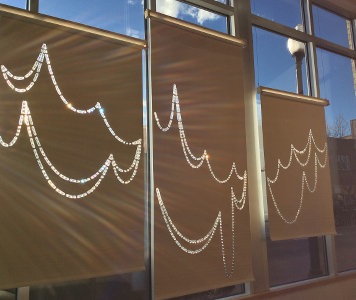 This work is a visual synthesis of two seemingly disparate fields of artistic inquiry: one personal and emotional, the other formal and structural.
There are many ways of understanding structure and form, as there are many ways of understanding relationships and status; projection is a means of exploring both.
About the Artist
Haley Bates received her Master of Fine Arts Degree in 2002 from Cranbrook Academy of Art in Bloomfield Hills, MI. In 2003, she accepted a position as head of the Metalsmithing and Jewelry program at Colorado State University, where she is currently an Associate Professor of Art. Through processes of hybridization, reconfiguration, and material juxtapositions, she reinterprets common objects, creating forms that are both evocative and multivalent. Her work has been published in American Craft and Metalsmith magazines, and exhibited both nationally and internationally.
---
Be a Cloud Not a Grid
Exhibition Dates: 9 January–8 March 2014
Opening Reception: Friday, 17 January 2014, 6–9 pm
Art Talk: Saturday, 22 February 2014, 2–4 pm, with talk at 3 pm
Artist as Curator: Theresa Anderson
Artists: Jaime Carrejo, Go! Push Pops (Katie Cerone + Elisa Garcia de la Huerta), Tobias Fike + Matthew Harris, Carl Hazlewood, Kathy Knaus, Bruce Price, Pamela Reed + Matthew Rader, Zach Reini, Laura Shill, Tracy Tomko, Rebecca Vaughan
Be a Cloud Not a Grid * is a group exhibition of 11 artists (or collaborations) whose work in sculpture, performance art, fabric, video, household items, and painting reflect upon this most current time period that philosopher and aesthetic theorist, Sianne Ngai, argues in her book, Our Aesthetic Categories, Zany, Cute, Interesting, is defined in our "hypercommodified, intensively informated and networked, performance-driven conditions of late capitalism." **
Ngai posits that the zany, cute, and interesting "revolve around multiple and even conflicting feelings: tenderness and aggression, in the case of the cute; fun and unfun, in the case of the zany; interest and boredom, in the case of the interesting and that these categories are a reflection upon contemporary feelings of powerlessness."
* Quote by Bruce Price on the Untitled Art Show
** Sianne Ngai, Our Aesthetic Categories Zany, Cute, Interesting (Cambridge, Massachusetts, and London, England, Harvard University Press, 2012)
---
Sleeper ~ Bug, Sue Simon, and Roger Rapp
Exhibition Dates: 1 November 2013–14 December 2013
Artist Reception: Friday, 8 November 2013, 6–9 pm
Artist Talk at Third Friday Collectors Preview Night: 15 November 2013, 6–8 pm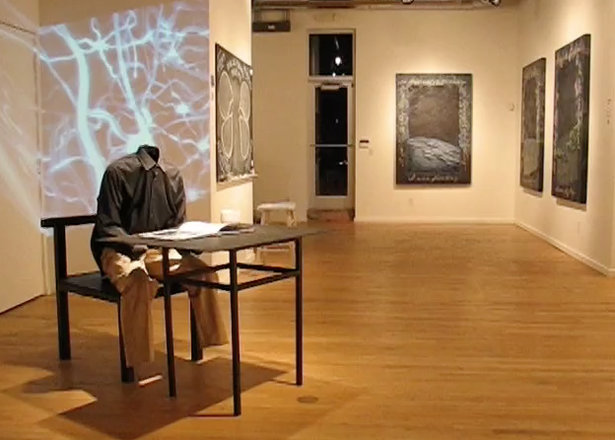 Foreground: Bug  Background: Roger Rapp
There is a State of Consciousness
If You are Asleep it is Called Dreaming
If Awake, it is Called Psychosis
Sue Simon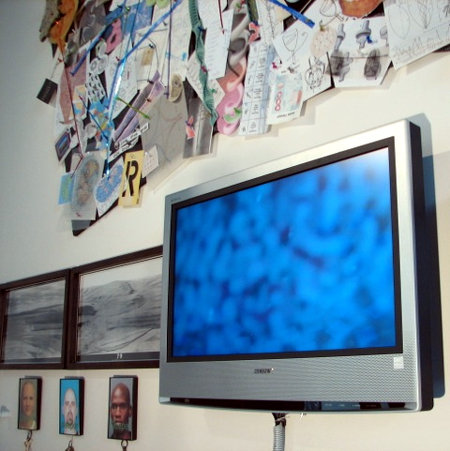 Roger Rapp
---
Previous Exhibitions »