Current and Past Exhibitions and Events
Attract/Retract/Attract ~ Theresa Clowes, Sarah Scott, and Gretchen Marie Schaefer
Exhibition Dates: 26 June–2 August 2014
Artist Opening Reception: Friday, 27 June 2014, 6–9 pm
First Friday, 1 August 2014, 6–9 pm: the artists will be present to discuss their work.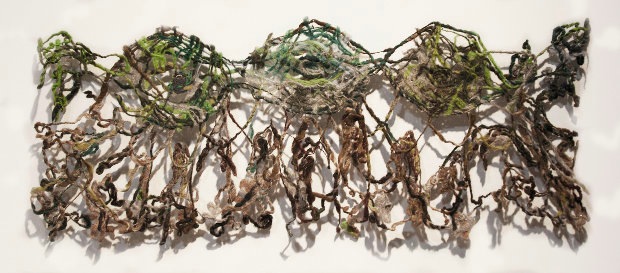 Theresa Clowes: felted lace drawing, 2014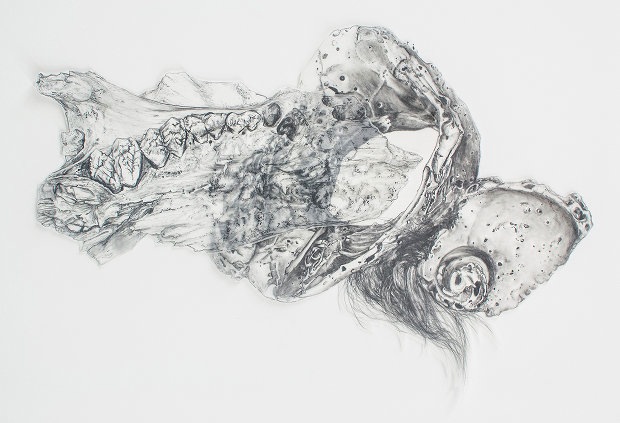 Gretchen Marie Schaefer: mixed media drawing, 2014
Attract/Retract/Attract investigates various aspects of nature and the inevitability of death, decay, and their cycles. All RedLine Alumni and founding members of TANK studio, Theresa Clowes, Sarah Scott, and Gretchen Marie Schaefer employ media in their work that includes felt, paper, graphite, and discarded objects. The artists create quiet, graceful meditations on contemporary relationship to nature and its undeniable ability to elicit discomfort. Although crafted with skill and beauty, the works nevertheless poke and prod at nature's underbelly.
Press Coverage
Read a review of this exhibition by Theresa Anderson.
---
American Place ~ A Sculpture Installation by Margaret Griffith
Exhibition Dates: 2 May–14 June 2014
Reception with the Artist: Saturday, 3 May 2014, 3–5pm
Born in North Carolina, Margaret Griffith is a Los Angeles based artist who uses the structures of gates and fences found in her community to create hand-cut paper sculptures, monuments to fragility and impermanence. She transforms the rigidity of steel structures into billowy forms; folded veils as sublime renderings of environmental boundaries, delicate reminders of the fiction of permanence.
VERTIGO Art Space is pleased to present Griffith's newest body of work, American Place. For several years Griffith has been photographing and replicating gates, exploring the metaphorical relationships of the gate, a symbol of protection and stability, to a fragile social impermanence in urban communities. The installation at VERTIGO consists of over thirty hand-cut paper replicas of gates found in her community that are suspended from the ceiling — twisting and turning, billowing and cascading to the ground. The process of recreating the gates becomes a dialogue of opposites, where actual gates are altered into forms that are gestural and more chaotic than the rigid structures from which they are derived.
About the Artist
Margaret Griffith has had numerous exhibitions throughout the United States and Europe. She received an MFA from Cranbrook Academy of Art in 2001 and is an Associate Professor of Drawing and Painting at Rio Hondo College. She is represented by Western Project, Culver City, California. Upcoming exhibitions include a two person exhibition at the Los Angeles Airport and a solo exhibition in September at Western Project. For more information visit www.margaretgriffith.com.
---
Projections ~ New Work by Haley Bates
Exhibition Dates: 28 March–26 April 2014
The artist will be present on First Friday, 4 April 2014, 6–9 pm
Art Talk: Saturday, 12 April 2014, 3–4 pm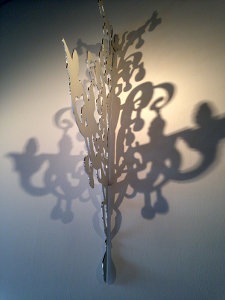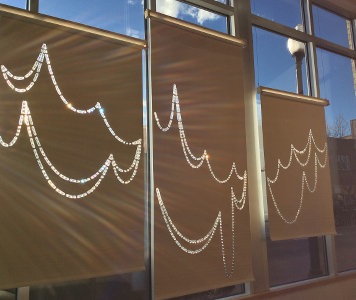 This work is a visual synthesis of two seemingly disparate fields of artistic inquiry: one personal and emotional, the other formal and structural.
There are many ways of understanding structure and form, as there are many ways of understanding relationships and status; projection is a means of exploring both.
About the Artist
Haley Bates received her Master of Fine Arts Degree in 2002 from Cranbrook Academy of Art in Bloomfield Hills, MI. In 2003, she accepted a position as head of the Metalsmithing and Jewelry program at Colorado State University, where she is currently an Associate Professor of Art. Through processes of hybridization, reconfiguration, and material juxtapositions, she reinterprets common objects, creating forms that are both evocative and multivalent. Her work has been published in American Craft and Metalsmith magazines, and exhibited both nationally and internationally.
---
Previous Exhibitions »