Current and Past Exhibitions and Events
Thaumazein ~ Mia Mulvey and Amanda Small
Exhibition Dates: 11 September–25 October 2014
Artist Reception: Thursday, 11 September 2014, 6–9 pm
Everyday: Black porcelain, 3D-printed high density composite
The Space in Between: Wood, Ceramic, Wool, Felt, String
Artists Mia Mulvey and Amanda Small have been working collaboratively to create an installation titled Thaumazein. The word, a Greek verb meaning "to wonder", is both contradictory and oppositional, rational and irrational, and has clear associations with looking and seeing. Thaumazein implies that one gets a glimpse of this unexpressed world and the spaces in-between.
Using symbols, fragments, echoes, and traces as frameworks from their global and physical locations, they intermix these with indications from their personal, domestic landscapes. Mulvey and Small are creating a visual conversation about place and character through vestiges of the world they live in, both shared and separate.
Through this ongoing conversation Mulvey and Small are expanding their ideas about wonder and its philosophy. A symbolic language has been created to reveal the intangible spaces of their collaboration and dissection of the roots of the Greek word thauma: "To look at something with wonder".
The results of this collaborative dialogue emerge at VERTIGO Art Space as an installation of abstracted objects and a conceptual landscape that are sure to connect with its audience to spark an intrinsic sense of wonder which must be experienced.
About the Artists
Mia Mulvey earned her BFA from Arizona State University and her MFA from Cranbrook Academy of Art. Her ceramic sculptures are inspired by natural history, science, and early museum practices. Mia actively exhibits her work nationally and internationally, most recently at the Denver Art Museum and at Goodwin Fine Art. Her grants and awards include a Colorado Council for the Arts Artist Fellowship Grant and a Kohler Arts in Industry Residency. She is an associate professor of art at The University of Denver.
Amanda Small was raised in Chapel Hill, NC, where she cultivated a love of ceramics in the Appalachians. Her interest in intrinsic systems revealed by emergent patterns has led to work that references the internal structures found in nature, biology, and plant life, and related to systems emerging from various forms of mapping. Through this, she creates large-scale installations that reference ideas pertaining to beauty, resonance, inter-connectedness, and our experience of "place". She has been a visiting artist at Australia National University in Canberra, Australia, and at Unitec University in Auckland, New Zealand. In 2010 she participated in Project Network at the International Ceramic Research Center in Skaelskor, Denmark, where she continues to work on staff as the Projects Coordinator. Recently she was awarded a North Carolina Arts Council Fellowship designed to support artists in their artistic and exhibition endeavors and professional development. Small resides in a dual "home", having one foot in Denmark and the other in Toronto.
---
Artists-in-Residence ~ Launch Pad 003: SECRETS and HERBS
Residency Dates: 1–31 August 2014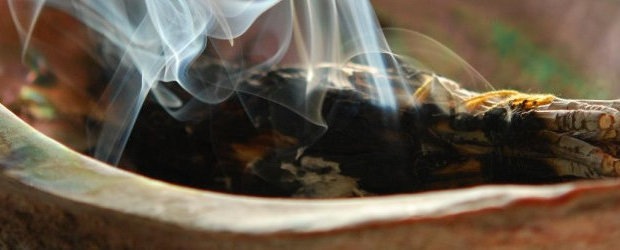 A series of events and exhibitions
curated by Petra Sertic and Alvin P. Gregorio
Secret Sessions
Saturday, 23 August 2014, 3–7 pm at VERTIGO Art Space
Meet privately with Petra Sertic and Alvin P. Gregorio to share your secrets and a cup of herbal tea.
The sharer of the most inspiring secret will be invited to develop a project for Launch Pad 003, to take place in Boulder, Colorado, on 4 October 2014.
Your anonymity will be protected and your secrets will be kept safe. Private sessions at undisclosed locations may be arranged.
Launch Pad is a flexible forum for the introduction of art, artists, and art enthusiasts. Focusing on universal, personal, or societal topics, each Mission presents artists and their recent work in the welcoming atmosphere of a private residence or public space.
Private Preview Party
Saturday, 30 August 2014, 7–11 pm at VERTIGO Art Space
by invitation only
must present secret token and password
Launch Pad 003: SECRETS & HERBS
Saturday, 4 October 2014 in Boulder, Colorado
with secret artists
details to follow
Public Review & Critique
of Launch Pad 003 series events
time & place to be determined
Contact
Petra Sertic: Email
Alvin P. Gregorio: Email
Please note that VERTIGO's normal hours are suspended during the month of the Artist-in-Residence program. Hours are set by the artists, so please contact the artists directly for scheduling and appointments.
---
Attract/Retract/Attract ~ Theresa Clowes, Sarah Scott, and Gretchen Marie Schaefer
Exhibition Dates: 26 June–2 August 2014
Artist Opening Reception: Friday, 27 June 2014, 6–9 pm
First Friday, 1 August 2014, 6–9 pm: the artists will be present to discuss their work.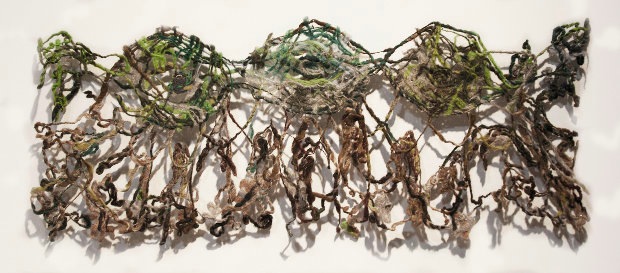 Theresa Clowes: felted lace drawing, 2014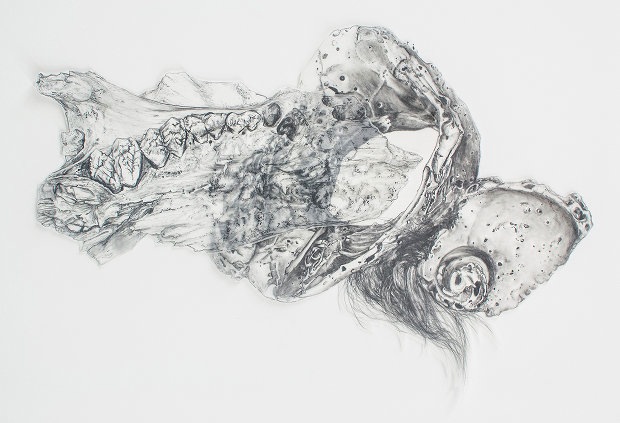 Gretchen Marie Schaefer: mixed media drawing, 2014
Attract/Retract/Attract investigates various aspects of nature and the inevitability of death, decay, and their cycles. All RedLine Alumni and founding members of TANK studio, Theresa Clowes, Sarah Scott, and Gretchen Marie Schaefer employ media in their work that includes felt, paper, graphite, and discarded objects. The artists create quiet, graceful meditations on contemporary relationship to nature and its undeniable ability to elicit discomfort. Although crafted with skill and beauty, the works nevertheless poke and prod at nature's underbelly.
Press Coverage
Read a review of this exhibition by Theresa Anderson.
---
Previous Exhibitions »