Current and Past Exhibitions and Events
Amelia Carley and Lauren Mayer
Exhibition Dates: 25 June–25 July 2015
Artist Reception: Friday, 26 June 2015, 6–10 pm
Talk with the Artists: Sunday, 12 July 2015, 11 am–12:30 pm
Strata(Stratum)
About the Work
With heavy consideration of color and formal qualities, Amelia Carley's new body of work consists of paintings that explore a macro-photographic view of geological material, particularly quartz and amethyst. Utilizing a camera as a major component of the work, she exaggerates depth-of-field properties to create the feeling of a human-size, almost landscape, experience of these prolific inorganic forms. The painted microscopic perspective pushes the experience towards a forced visual abstract that is reliant on color and composition.
Lauren Mayer's work deals with how people create a personal intimacy and knowledge of oneself through accumulated objects, whether hidden in a stack of clothes in a bureau in the corner or on display in the form of a chair. Understanding how memory and identity can become attached to objects, especially to pieces of furniture or objects of clothing, rests as the foundation for much of her work. Something as simple as the idea of what someone holds in his or her pockets offers up narratives of internal and external lives told through objects.
About the Artists
Amelia Henrietta Carley was born and raised in Colorado. She graduated with honors from the University of Colorado at Boulder, receiving a Bachelor of Fine Arts in Painting and Drawing as well as a Bachelor of Arts in both Psychology and Italian. Exhibiting locally and nationally, she currently lives and works in Denver, Colorado, and is an artist at TANK Studios. At the end of summer 2015 she will be relocating to Atlanta, Georgia, to pursue her Masters in Fine Arts at Georgia State University where she's been awarded the Dean's Fellowship Award at the Welch School of Art.
Lauren Mayer is a ceramic sculptor who lives and works in Colorado. She received her BFA in Ceramics from Michigan State University and a post-baccalaureate degree from the University of Massachusetts, Dartmouth. She received her MFA in Ceramics from the University of Colorado, Boulder in 2009. Currently teaching Ceramics at Metropolitan State University of Denver, she has also taught at the University of Denver and the University of Colorado, Boulder. In recent years she has enjoyed time of making new work as a resident at Anderson Ranch Arts Center in Colorado and Red Lodge Clay Center in Montana.
---
Some Ideas Perceived by Mediation of Others ~ Stefan Chinov
Exhibition Dates: 30 April 2015–20 June 2015
Artist Reception: First Friday, 1 May 2015, 6–9 pm
Distance of Itself to the Invisible, inkjet print on paper
The photographs and sculptures in this exhibition combine the experience of the vast and impersonal landscape of Antarctica with the discreet space of individual studio explorations. The photographs imply themes of distance and migration. Taken in Antarctica with a handmade pinhole camera, a small wood box that "inhales" the space around it as opposed to epitomizing it, they show landscapes and human presence in a mixed manner of documentation and reflection. This process adds an eerie dimension, an extension of the landscape in time rather than a direct representation. The resulting images are an evidence of fragile natural systems in a state of flux, caught between violent natural events, a rapidly changing climate, and human presence. Parallel to the photographs, the sculptures attempt to deliver a compressed sense of structure and materiality. Their conception lies in the potential of abstract form to evolve upon itself and to convey emotion and meaning even when it appears to be completely removed from external references.
---
Everybody Sees the Same Elephant ~ Curated by Jason Carey-Sheppard for the Month of Photography
Exhibition Dates: 12 March 2015–24 April 2015
Reception: Friday, 13 March 2015, 6–8 pm
Featuring works by Yolanda Chichester Fauvet, Josh Brilliant, and Derek Franklin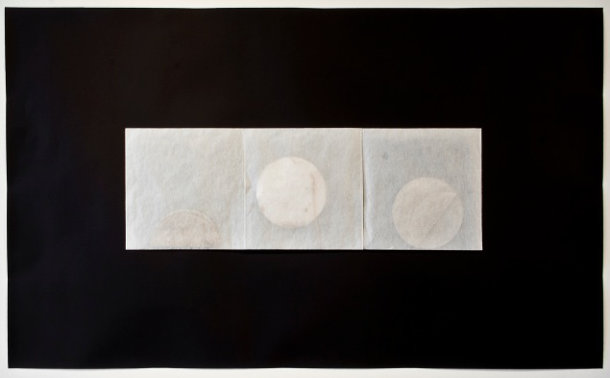 Yolanda Chichester Fauvet, Sweepings (Triptych II), 2015, photo back drop paper, velum, thread, and street debris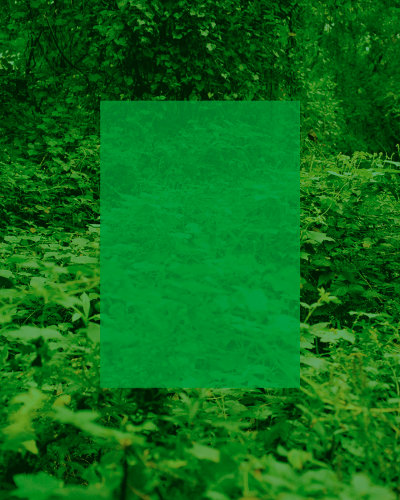 Josh Brilliant, Video still from Growan, 2014, archival ink jet print on cotton and flagpole
Derek Franklin, Video still from Medical Springs, 2014, single channel video with audio
Photography, with its omnivorous appetite, synthesizes all histories, all objects, and all deeds, no matter how small or vague. All things, when they have fallen into the sightline of the photographic lens, are consumed and repurposed. Everybody Sees the Same Elephant explores what happens when this proverbial sightline is placed not on objects or images, but on photography itself.
In this pursuit Everybody Sees the Same Elephant highlights the work of three artists, Josh Brilliant, Yolanda Chichester, and Derek Franklin, and examines their use of photography not as a medium but as an ideological method – the ways in which they have used their own awareness of the ideological fundaments of photography as a rubric for creating art.
The works on display in this exhibition should be thought of as autonomous and independent of a curatorial agenda. The focus is instead on how the objects, histories, deeds, and stories embedded in the artworks become intertwined, not through the logical construction of a visual text, but through their jarringly static presence as images. As Aristotle's axiom states, the whole is greater than the sum of its parts – the exhibition, too, becomes an image, an image that is more than the sum of the images it has consumed. Also present is an oscillating tension – the parts and the whole are two entirely separate but entirely dependent mechanisms – and from this tension the creation of a story that remains just out of our rational interpretive reach.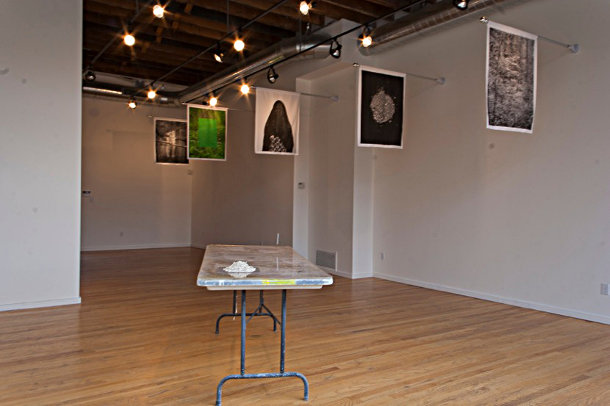 Installation at VERTIGO
---
Previous Exhibitions »