Coming Soon to VERTIGO
American Place ~ New Work by Margaret Griffith
Exhibition Dates: 2 May–14 June 2014
Reception with the Artist: Saturday, 3 May 2014, 3–5pm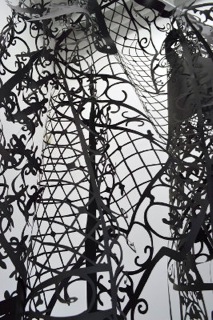 Artist Statement
Provoked by spaces created within manmade structures, I am investigating architectural elements, abstraction and perspective. My drawings consist of the geometric division of space rendered in pigmented ink on paper. The paper installations consist of replicas of domestic gates hand cut out of heavy weight paper.
My trajectory is the reinterpretation of our urban and residential landscape through abstraction. As discussed in Rosalind Krauss's essay on Grids, I embrace the grid as a staircase to the Universal, to Being or Mind or Spirit, to explore beyond the concrete and the problems inhabited within it.
In this century we have witnessed what many have described as the next great depression, resulting in empty and vacant businesses and homes across the country. In Detroit, I began photographing vacant buildings as subject matter for my work while reading about emptiness in the context of Eastern thought. In 2008, approximately 44,000 vacant houses in the city were reported. In California tens of thousands of jobs and billions of dollars in tax revenue have been lost. Impermanence, instability, and emptiness abound in our economy and visual landscape.
Most recently, as symbols of passages, boundaries and privacy, I have been photographing residential front gates found in my Highland Park neighborhood. I am then projecting the images on to paper and cutting out the negative space resulting in life size paper replicas. The forms are then piled on top of each other on the floor and wall creating a three dimensional abstraction of pattern, line, shape and mass. I am looking at how a community visually defines itself by the boundaries it constructs through metaphorical relationships found within urbanism. As symbols of theft, fear, isolation and possession, gates represent confinement as well as protection.
I am using paper as my creative medium because it is lightweight, accessible, efficient and strait forward. Paper is thin, delicate, and versatile. It allows me to work in a variety of different scales and has an inherent intimacy. And we all have established relationships with it whether through drawing, printing, cutting, pasting or writing. As my trajectory focuses on permanence as fiction, choosing a medium that is fragile to represent a chain link or steel gate is important.
—Margaret Griffith
---