Current and Past Exhibitions and Events
Scott Henderson and Lindsay Pichaske
Exhibition Dates: 24 November–18 December 2010
Reception with the Artists: First Friday, 3 December 2010 (6–9 pm)
Third Friday Reception: 17 December 2010 ( 6–9 pm)
After the Prowl
Scott Henderson
Trained at the School of the Art Institute in Chicago, and at the University of Central Oklahoma, Scott Henderson lives and works as an artist in Oklahoma City. He works in collage and mixed media with a focus on fantastic themes in correlation with self identity.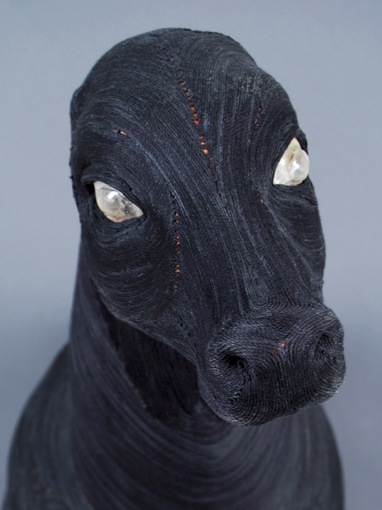 The Masking Game (detail)
Lindsay Pichaske
On a like minded pondering of identity... Lindsay Pichaske (a recent MFA candidate from CU Boulder) asks the question, "What separates human from animal?", stating that, "I create animals that blur species boundaries with each other, and with humans." Pichaske's sculptural style is full of juxtaposition between (self) perception and the issue human condition.
---
Dorothy Tanner ~ The Light Fantastic
Exhibition Dates: 22 September–13 November 2010
Reception with the Artist: Third Friday, 15 October 2010, 6p–10p
"Light has the power to create, define, and solidify; or leave in shadow that which we believe to be real." br>   —Dorothy Tanner
About the Artist
Dorothy Tanner exhibits a lot of optical nerve. While experimenting with a vast array of media in her career as an artist, she has found acrylic to be the most rewarding. It is a material that she may sculpt, paint, sandblast, or bake and shape. Some are wall sculptures, some free-standing or hang from the ceiling, while others are water sculptures. Light is an intrinsic element of the art form. LEDs have been the primary source of lighting the works in recent years.
While each sculpture stands alone as an art expression, Dorothy's interest is to integrate the works into a total environment — installations that express a powerful visual and emotional sensibility. Her collaboration with Marc Billard creating electronic music and video adds another element to an otherworldly experience.
Artist's Statement: "The major challenge for me in art is to keep under control the tyranny of a logical mind. The spirit that moves me is capricious, unruly, and irreverent. Most of my work grows out of intuitive impulse — the rest gets underway by just playing."
Visit the artist's site for more information and photos.
Press Coverage
VERTIGO Art Space is excited to present this exhibition as part of Denver Arts Week. Read a review of the exhibition by Ben Dayton of Westword.
---
One Point Twenty-One Jiggawats
Exhibition Dates: 4 August–17 September 2010
Closing Reception with the Artists: Third Friday, 17 September 2010, 6p–10p
Artists Jason Sheppard and Scott Raby use materials and imagery which are egalitarian, favoring the shapes, textures, and forms found in a pedestrian landscape. Despite this, both artists have drastically different approaches to this working style; one clean, one dirty, one shiny, one rusted, one baroque, one understated.
While their work differs in outcome, it arises from a singular point of a disciplined energy which reshapes their everyday experiences into alarmingly opaque art. Despite using a lexicon of the daily, they transform signs and signifiers until they weave in and out of recognition, changing the familiar into the obscure.
In One Point Twenty-One Jiggawats, both artists will actively create and alter VERTIGO Art Space as a site to not only to reexamine the phenomena of the culturally banal but the unknowns and uncertainties in its collapse.
---
EMERGING 4
Exhibition Dates: January 15–February 27, 2010
Opening Reception: Friday, January 15, 6-9 pm
Closing Reception: Friday, February 19, 6-9 pm
Featuring:
Tyler Beard
, Ben Dayton, Linda Lopez,
Austin Parkhill
, Alex Perrine, Lindsay Pichaske, and
Allie Pohl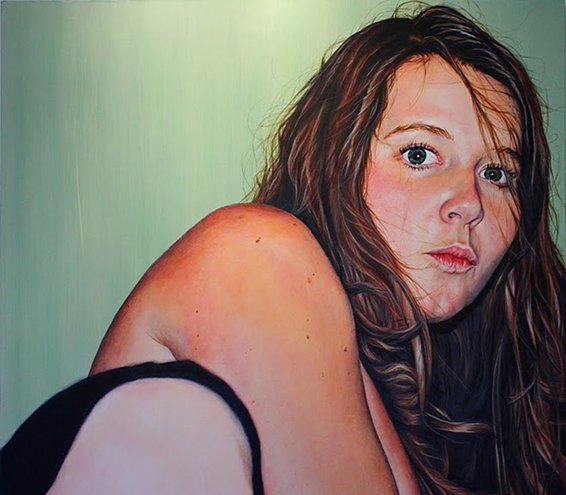 "Reine", 54x54 inches, Acrylic on Canvas, 2010 /
Austin Parkhill
Lindsay Pichaske
Linda Lopez
"Bears" /
Tyler Beard
Ben Dayton
"Female" (small) / Alex Perrine
"Ideal Woman: Astroturf A and B" /
Allie Pohl
Curated by Robert D. Garner (who is also an emerging artist), the fourth annual Emerging Artist Show at VERTIGO features the talents of Tyler Beard, Benjamin Dayton, Linda Lopez, Austin Parkhill, Alexander Perrine, Lindsay Pichaske, and Allie Pohl. I am really looking forward to this one — it has been a big challenge and there is a very interesting connection that runs through the work.
Press Coverage
Read a review of this exhibition
by Denver Post Fine Arts Critic, Kyle MacMillan. The Signtologist
commented on the exhibition and has additional photos
of the work.
---
Brighter Than Real: New work from Mathew McConnell
Exhibition Dates: Friday, August 7–Saturday, August 29, 2009
Opening Reception: Friday, August 7, 6-9pm, and Friday, August 29, 2009, 6-9pm
Artist Statement
Brighter Than Real
VERTIGO Art Space, August 7-29, 2009
In a conversation with a friend I had not seen in several years, she described to me a project she had been working on. During her short description of what she was creating I realized the project she had taken up was not altogether unfamiliar to me. What she had described was a project that I had once described to her, a project I had helped another artist with, a project that was never fully realized. I chose not to remind her of our long-forgotten conversation.
My most recent project bases itself in the work of other visual artists. Often using a singular form or image of another artist's creation as a starting point, I recreate the work with alterations to suit my own aesthetic and conceptual preferences. The resultant forms vary between what could be mistaken as a miniature facsimile of another artist's work and original artworks with a source seemingly outside any individual referent.
Choosing works to remake and alter is as intuitive as it is arbitrary. I find myself primarily drawn to objects that question their role as objects of art. Conversely, I am also interested in objects that raise questions about their potential role in the world if they were not to be viewed in the context of the gallery space. Many of the objects and images I am interested in have a direct lineage to the works of a previous generation of artists; they too are a reworked response to their predecessors and contemporaries.
In the construction of these replicant objects and assemblages I often find myself trying to pinpoint the exact moment at which the work becomes more mine than theirs. Sometimes this moment occurs in the mere selection of a form, and at other times it does not occur at all. Through careful arrangement of these simulated, manipulated, exalted, and subverted forms, I find, at the best of times, a means of reconciling the difference between what is the art of someone else's creation and what is an art of my own.
Mathew McConnell (photo by Ken Hamel/DenverArts.org)
Press Coverage
Read a review of this exhibition
by Ken Hamel at DenverArts.org.
---
DMB Ideas
Exhibition Dates: July 3-30 2009
Opening Reception: July 3, 6-9pm
Featuring: DMB Ideas
With an exercycle-powered dance party, an unforgettable acapella ensemble, and "deep discounts," the DMB Collective enjoys doing things the wrong way. Building on a shared sense of the absurd, these three artists question the value of language and the objects surrounding us. By practicing the most blatant misappropriation and misuse, the DMB explores overlooked opportunities in the commonplace and obsolete objects we live with.
Press Coverage
Listen to an interview with the artists
as the featured guests on The Untitled Art Show with hosts Erik Isaak and Michael Keen.
---
Lauren Mayer: Tracing
Exhibition Dates: June 5–June 27, 2009
Opening Reception: June 5, 6–9 pm
VERTIGO will be open First Fridays and third Fridays for Collectors Preview Nights from 6–9 pm throughout the event.
This summer VERTIGO will feature MFA grads from CU Boulder. The first in this series is Lauren Mayer with a provocative installation of porcelain objects titled "Tracing".

Mayer states, "An object, be it a letter or a piece of furniture, possesses the capacity to act as a proxy for things beyond itself and its seemingly simple material existence. They can subtly disclose elusive, but poignant aspects of someone's internal life— of the places they have called home, perhaps whom they have loved, and what they have left behind out of necessity or sheer abandonment." 

---
Decadence and Assemblage
When: February 20-March 21, 2009
Opening Reception: Friday, February 20th, 5–9pm.
Featuring the works of Kim Polomka, with Assemblage and furniture by Donald Fodness
"Delicious Decadence" (detail) by Kim Polomka, acrylic on canvas
"Delicious Decadence" (detail) by Kim Polomka, acrylic on canvas
"Untitled Assemblage" by Donald Fodness, mixed media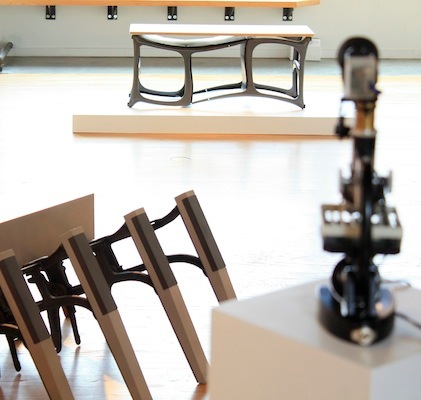 Installation by Donald Fodness, mixed media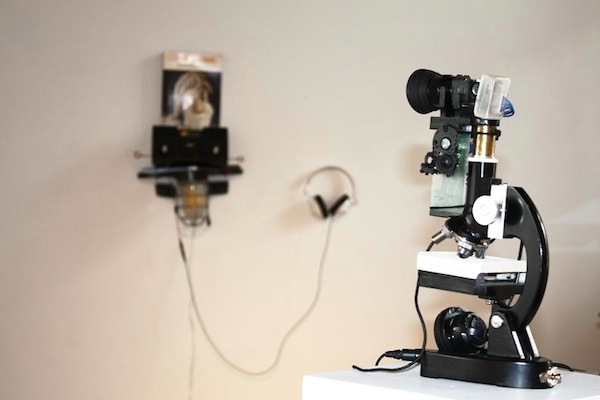 Installation by Donald Fodness, mixed media
VERTIGO will be open First Fridays and third Fridays for "collector preview nights" from 6–9pm throughout the event.
---
Greater Than - An Advance on Greatness: A New Paradigm for Mythical Heroism
From the Mind of BARCHAEL Exhibition Dates: October 18–November 3, 2008 Opening Reception: October 18th, 6–10pm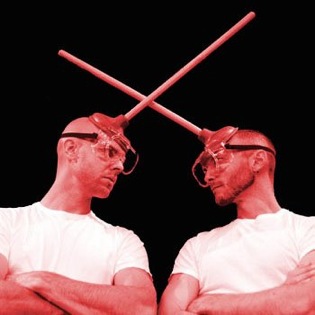 Artist Statement
With the theme of the cult of personality as their inspiration, Barchael investigates the consequences of self-idolization prevalent in politics, moralism, and celebrity. Barchael makes mythical heroes out of their joined personality, lionizing themselves in a multimedia expression of their own supposed greatness. Barchael is the combined creative identities of Michael Bernhardt and Barry Whittaker. Exploring issues of communication, identification, and myth, Barchael navigates a range of media confusing themselves as well as their audience. Their ultimate goal is to undermine self-rightiousness, while seriously spreading the ridiculous.
---
Real Work
Mark Moskovitz
Exhibition Dates: August 15–October 15, 2008 (see description following the images below)
Artist Reception: First Friday, September 5th, 2008, 6–9pm (Mark will be present all the way from Cleveland, Ohio!)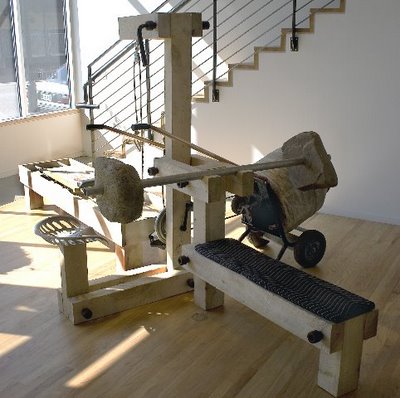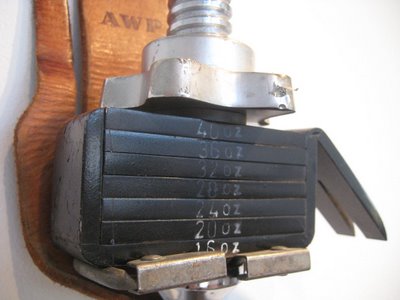 Brought in especially for the time of the DNC in Denver, the current show entitled "Real Work" by Mark Moskovitz is another one of VERTIGO'S must-see installations. Moskovitz is an artist practicing in Cleveland, Ohio. His recent work demonstrates his continued faith and certain skepticism in the object. He often creates pieces that remind us of our forgotten roots and the slow pleasures in materials and artifacts that keep us connected to the essentials of our existence: food, water, clothing, and shelter. The work is rendered with a mixture of high and low technology, humor and craftsmanship, culture and crudeness. This Installation also incorporates video:
Mark Considers himself "a Luddite on the bleeding edge, as inspired by fine art and design as he is by prisoner and survivalist inventions."
BRIEF BIOGRAPHY:
Moskovitz is also a full-time visiting artist at the Cleveland Institute of Art, where he teaches design and sculpture classes. Straddling the worlds of art and design, he has formed unique relationships with institutions such as the Cleveland Museum of Contemporary Art, where he has shown in its galleries and museum store. He has also created commissions for its subscribers, and been a guest speaker on several discussion panels. Additionally, he has shown work in galleries and institutions in New York, Chicago, Detroit, Berlin, and Saint-Etienne, France. Currently he is showing at the Wolfsonian Museum in Miami, as a part of a show entitled "Thoughts on Democracy", which is up through Art Basel in December of 2008. His work has been featured in art and design publications in the US, Taiwan, and across Europe. In 2005 Mark received the first Daimler Chrysler Financial Services Emerging Artist Award upon the completion of his graduate studies. That year he was also named one of Wallpaper Magazines' most sought after designers. In 2008 his work was nominated for the 2nd Biennial 01SJ Green Prix Award Winner for Environmental Art.
---
Frolics and Frippery
Janice Jakielski Exhibition Dates: July 4th-August 5th, 2008 Collectors Preview Night: Friday, July 18th, 2008
VERTIGO Art Space will be exhibiting the work of Janice Jakielski from July 4 through August 2, 2008. An opening reception to meet the artist will be held on Friday July 18th from 6-9pm. In her solo exhibition Frolics and Frippery Jakielski creates intimate objects for the body. Her work deals with themes of perception, body awareness and desire. Working across many disciplines, the pieces in this exhibition combine sculpture, fashion and installation. This work is a social experiment of sorts, a mediated experience to explore communication, comfort and complacency through play. Boulder based artist Janice Jakielski received her BFA in 2000 from the New York State College of Ceramics at Alfred University, Alfred, NY and her MFA in Ceramics in 2008 from the University of Colorado, Boulder, Colorado. Janice Jakielski will begin teaching ceramics this fall at Colorado State University in Fort Collins. For more information and images please visit
Janice's site
.
---
Molly Hatch
Exhibition Dates: June 3–28, 2008 Collector's Preview Opening: Thursday, June 5, 2008 First Friday Opening: Friday, June 6, 2008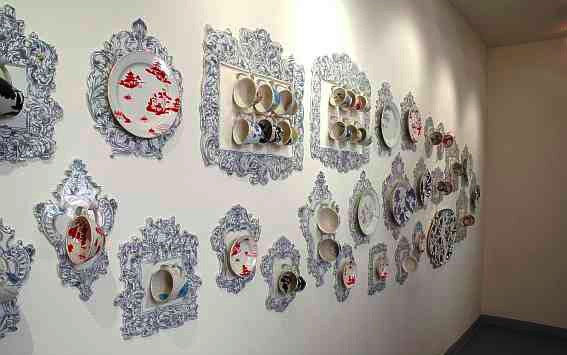 ---
2008 Spring Show at Vertigo
Featuring Photographs by Richard Alden Peterson & Bob Coller Jewett, Stone by Scott Davis
Exhibition Dates: April 15–May 31, 2008
Artists' Opening Reception: Friday, April 18, 2008, 6–9 pm
Closing Reception: Friday, May 16, 2008, 6–9 pm
---
Anatomy and Process
The Drawings of Kate Aspinall and the Metalwork of John Murphy Exhibition Dates: November 13–December 28th, 2007 Collectors Preview Night: Friday, November 16, 2007, 6–9 pm
---
Net/Work
---
Previous Exhibitions »