Current and Past Exhibitions and Events
Half the Floating World: Pangloss Gravitron
Exhibition Dates: 6 December 2012–29 December 2012
First Friday Art Walk: 7 December 2012, 6–9 pm
Artist Reception: Friday, 14 December 2012, 6–9 pm
Santa Fe Art District Collectors' Night: Friday, 21 December 2012, 6–9 pm
Closing Weekend Extended Hours: Friday, 28 Dec 2012, 2–9 pm & Saturday, 29 Dec 2012, 1–4 pm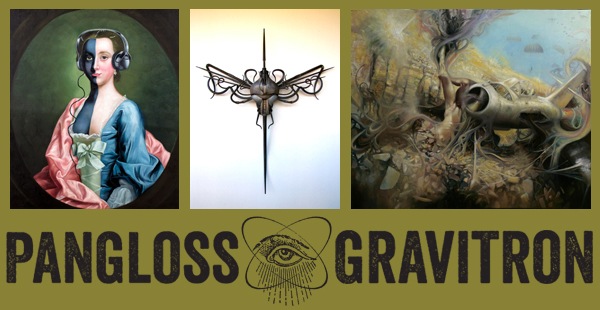 Inaugural Exhibition with Guest Artist Kieran Collins
Tracy Tomko is December's Artist-in-Residence. She will be debuting Pangloss Gravitron, a Denver-based artist collective. They begin their optimistic adventures with: Tracy Tomko, Meagen Svendsen, Mark Penner-Howell, CT Nelson, Patrick Loehr, John Haley III, and Erin Asmussen. For Half the Floating World they will be joined by Kieran Collins, from San Francisco. Kieran is the first of their efforts to work with artists from different areas. They hope to cross-pollinate their idea grounds and collaborate in more expansive ways. The title, Half the Floating World, is about reality creeping its way into our daydreams and leaving a trace of its weight on a joyful frolic.
Video of Blind Faith by Tracy Tomko
Pangloss
noun: One who is optimistic regardless of the circumstances.
adjective: Blindly or unreasonably optimistic.
After Dr. Pangloss, a philosopher and tutor in Voltaire's 1759 satire, Candide.
The name is coined from Greek panglossia (talkativeness).
Gravitron
A popular carnival ride that pins its riders against the wall with centrifugal force. The Gravitron attains a speed of 24 rpm, which results in 4G of gravitational force, causing riders to lift off the floor. The Gravitron is the fastest spinning amusement park ride and is considered to have a "High" thrill level.
Press Coverage
Pangloss Gravitron listed as "Ten people to watch in 2013" by Susan Froyd at Westword.
Read a review of this exhibition by Theresa Anderson.
---
Previous Exhibitions »