Current and Past Exhibitions and Events
Real Work
Mark Moskovitz
Exhibition Dates: August 15–October 15, 2008 (see description following the images below)
Artist Reception: First Friday, September 5th, 2008, 6–9pm (Mark will be present all the way from Cleveland, Ohio!)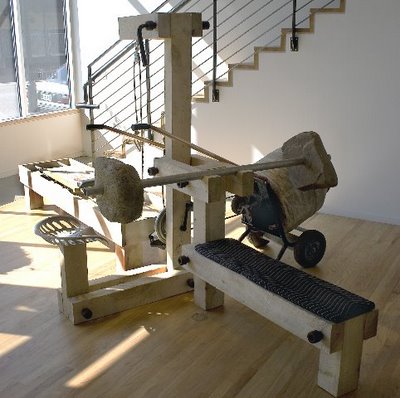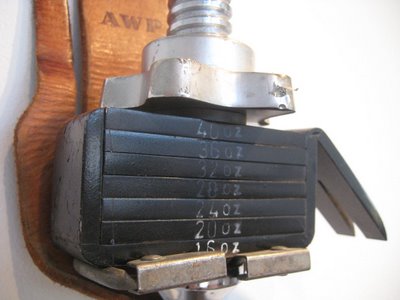 Brought in especially for the time of the DNC in Denver, the current show entitled "Real Work" by Mark Moskovitz is another one of VERTIGO'S must-see installations. Moskovitz is an artist practicing in Cleveland, Ohio. His recent work demonstrates his continued faith and certain skepticism in the object. He often creates pieces that remind us of our forgotten roots and the slow pleasures in materials and artifacts that keep us connected to the essentials of our existence: food, water, clothing, and shelter. The work is rendered with a mixture of high and low technology, humor and craftsmanship, culture and crudeness. This Installation also incorporates video:
Mark Considers himself "a Luddite on the bleeding edge, as inspired by fine art and design as he is by prisoner and survivalist inventions."
BRIEF BIOGRAPHY:
Moskovitz is also a full-time visiting artist at the Cleveland Institute of Art, where he teaches design and sculpture classes. Straddling the worlds of art and design, he has formed unique relationships with institutions such as the Cleveland Museum of Contemporary Art, where he has shown in its galleries and museum store. He has also created commissions for its subscribers, and been a guest speaker on several discussion panels. Additionally, he has shown work in galleries and institutions in New York, Chicago, Detroit, Berlin, and Saint-Etienne, France. Currently he is showing at the Wolfsonian Museum in Miami, as a part of a show entitled "Thoughts on Democracy", which is up through Art Basel in December of 2008. His work has been featured in art and design publications in the US, Taiwan, and across Europe. In 2005 Mark received the first Daimler Chrysler Financial Services Emerging Artist Award upon the completion of his graduate studies. That year he was also named one of Wallpaper Magazines' most sought after designers. In 2008 his work was nominated for the 2nd Biennial 01SJ Green Prix Award Winner for Environmental Art.
---
Previous Exhibitions »