Current and Past Exhibitions and Events
Something/Nothing ~ Curated by Peter Strange Yumi
Exhibition Dates: 22 January–28 February 2015
Artist Reception: Friday, 23 January 2015, 6–9 pm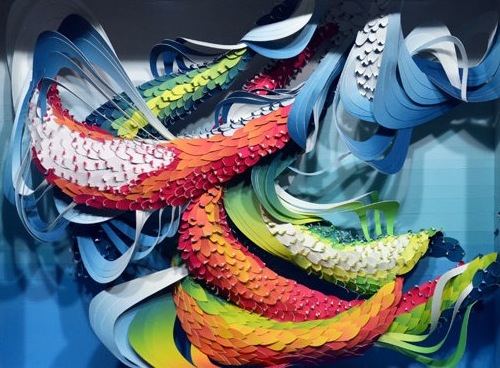 Spectrum: Bio Interloper V, detail, Crystal Wagner, 2014
Cut paper, screen print, wood, paint. 25" x 5" x 19"
The Artists
Something/Nothing is a group exhibition curated by Peter Strange Yumi featuring the work of Andrea Burgay, Amber Cobb, Paul Loughney, Lorrie McClanahan, Liz Miller, Sarah Rockett, Naomi Scheck, Zach Searcy, and Crystal Wagner.
Statement
An appearance can only exist if there is a mind that beholds it. The "beholding" of that appearance is nothing other than experience; that is what actually takes place…All the elements are vividly distinguished as long as the mind fixates on them. Yet they are nothing but a mere presence, an appearance. When the mind doesn't apprehend, hold, or fixate on what is experienced, ..."reality" loses its solid, obstructing quality.
—Tulku Urgyen Rinpoche, As It Is
Press Coverage
Read an article about Peter Strange Yumi and this exhibition by Susan Froyd at Westword.
---
Previous Exhibitions »