Current and Past Exhibitions and Events
Artists-in-Residence: The Stapleford Collective
Exhibition Dates: 17 August 2012–7 September 2012
Artist Reception: Saturday, 1 September 2012, 7–10 pm
The new Artists-in-Residence at VERTIGO Art Space are The Stapleford Collective, an artist team-up between roommates/studio-mates Jon P. Geiger and Derrick Velasquez. The purpose in the collective is to explore the Venn diagram nature within their individual works, using the collective mindset as a means to tackle larger envisioned concepts and projects.
Following up on their first exploration of coal mining tipples and Colorado's history of mining coal/gold at RedLine, the second Stapleford endeavor draws from a number of Do-It-Yourself books such as Eliot Wigginton's Foxfire project and the Do It book curated by Hans Ulrich Obrist. Do-It-Yourself has hit globally on a multitude of levels from urban farming, to craft movements, to artists' explorations. The Stapleford Collective's project sets out to explore constructivist methods through contemporary recreations, instructional DIY's, and spin offs of recorded processes, stories, and cultural history. The project will consist of a multitude of pieces executed with a wide variety of materials and techniques both known and new to the Stapleford Collective mindset and practice. The project will take the form of a three-week residency at VERTIGO Art Space. The community is invited to experience the development of ideas between two young Denver artists over the course of the residency where the space will be open at specific times and by appointment.
---
Artists-in-Residence Kelcy Chase Folsom and Adam Milner present "Sensitive and Emotional"
Exhibition Dates: 19 July 2012–10 August 2012
Opening Reception: 19 July 2012, 6–9 pm
First Friday Reception: 3 August 2012, 6–9 pm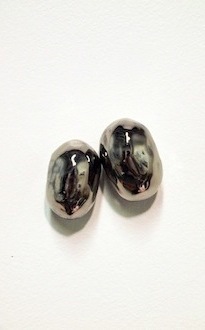 In Sensitive and Emotional, Kelcy Chase Folsom and Adam Milner present independent works surrounding ideas of intimacy, relationships, touch, sexuality, and vulnerability that define their work and provide a common ground. While Milner presents artifacts and documents from his life, often ongoing and based in ritual or routine, Folsom creates relics of performances that never happened.
The title Sensitive and Emotional references the processes of both artists—and in some ways, all artists—and yet this vocabulary has been dismissed as valid inspiration in contemporary art. While not neglecting theory or concept, Milner and Folsom embrace these emotions that are often viewed as either weaknesses or passé. Sensitive and emotional are a united pair, and although seemingly redundant, are the foundation of—at times pathetic or desperate—romantic lives.
Kelcy Chase Folsom is currently an MFA student in ceramics at the University of Colorado at Boulder. Adam Milner is an artist in Denver, Colorado, and received his BFA from the University of Colorado at Boulder in Drawing and Painting.
---
Ted Vogel ~ Recent Works
Exhibition Dates: 17 May 2012–30 June 2012
Artist Reception: Friday, 15 June 2012, 6–9 pm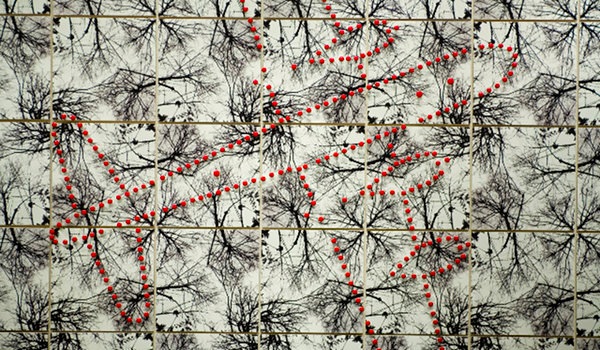 Ted Vogel has always been a collector of objects, and a maker of spare parts. In his work these "parts" are made of clay, kiln cast glass, digital images and other mixed media elements. His interest in working with clay, glass, cast iron, the photographic image and other materials is in what each material gives to the work: light, color, transparency, depth, strength, weight, illusion, fragility, etc.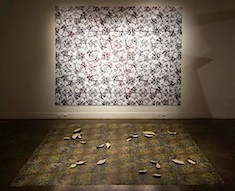 Reflecting the traditions of ceramic and glass figurines and the kitsch ceramics of the 1930s,'40s & '50s, Vogel's work explores ideas of story telling and allegory and references our inseparable relationship to the natural world, the body, humanness and our complex and precarious interactions with humankind. These stories are derived from sources of mythology of our vast history and family tales that are passed down from generation to generation, and from the so-called "true stories" of our time, often created by public myth.
---
Previous Exhibitions »