Current and Past Exhibitions and Events
Be a Cloud Not a Grid
Exhibition Dates: 9 January–8 March 2014
Opening Reception: Friday, 17 January 2014, 6–9 pm
Art Talk: Saturday, 22 February 2014, 2–4 pm, with talk at 3 pm
Artist as Curator: Theresa Anderson
Artists: Jaime Carrejo, Go! Push Pops (Katie Cerone + Elisa Garcia de la Huerta), Tobias Fike + Matthew Harris, Carl Hazlewood, Kathy Knaus, Bruce Price, Pamela Reed + Matthew Rader, Zach Reini, Laura Shill, Tracy Tomko, Rebecca Vaughan
Be a Cloud Not a Grid * is a group exhibition of 11 artists (or collaborations) whose work in sculpture, performance art, fabric, video, household items, and painting reflect upon this most current time period that philosopher and aesthetic theorist, Sianne Ngai, argues in her book, Our Aesthetic Categories, Zany, Cute, Interesting, is defined in our "hypercommodified, intensively informated and networked, performance-driven conditions of late capitalism." **
Ngai posits that the zany, cute, and interesting "revolve around multiple and even conflicting feelings: tenderness and aggression, in the case of the cute; fun and unfun, in the case of the zany; interest and boredom, in the case of the interesting and that these categories are a reflection upon contemporary feelings of powerlessness."
* Quote by Bruce Price on the Untitled Art Show
** Sianne Ngai, Our Aesthetic Categories Zany, Cute, Interesting (Cambridge, Massachusetts, and London, England, Harvard University Press, 2012)
---
Sleeper ~ Bug, Sue Simon, and Roger Rapp
Exhibition Dates: 1 November 2013–14 December 2013
Artist Reception: Friday, 8 November 2013, 6–9 pm
Artist Talk at Third Friday Collectors Preview Night: 15 November 2013, 6–8 pm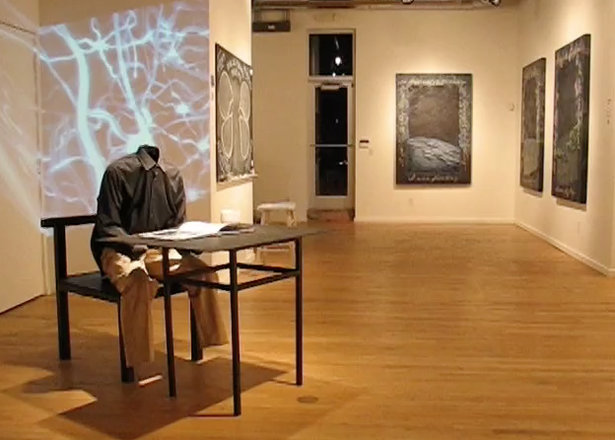 Foreground: Bug  Background: Roger Rapp
There is a State of Consciousness
If You are Asleep it is Called Dreaming
If Awake, it is Called Psychosis
Sue Simon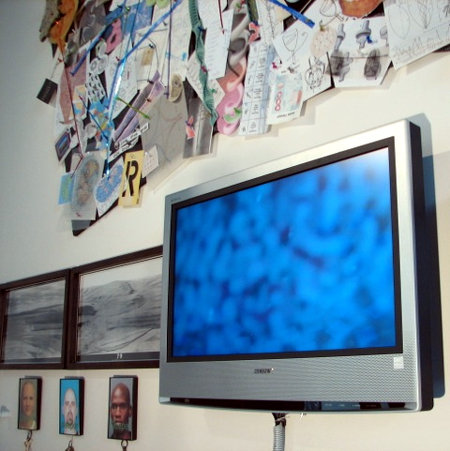 Roger Rapp
---
Tobias Fike and Matthew Harris ~ Food Fight
Exhibition Dates: 6 September 2013–26 October 2013
Opening Reception with the Artists: First Friday, 6 September 2013, 6–9 pm
Closing Reception with the Artists: Friday, 25 October 2013, 6–9 pm
Collaborating since 2009, Tobias Fike and Matthew Harris have dragged each other across the desert, wrestled each other's shadows, and tried to catch glass objects while blindfolded. They recently performed live for the opening of Denver's Biennial of the Americas First Draft exhibition, where they tested the collision of beach balls at high speeds.
For VERTIGO Art Space they have transformed the space into a black box video installation to showcase a new project they have been working on throughout the year. Filmed off site, Fike and Harris individually crafted multi-course meals in separate kitchens and then served them to each other by throwing the food into the opponent's workspace. Disruptive, regressive, playful, and passive aggressive, their actions blend together the patience of an adult with the curious spontaneity of a young child at mealtime. Installed in the gallery, the two large video projections face each other from opposite sides of the room. Appearing to interact with each other in real time, the food thrown from one side invisibly flies over the audiences' heads and lands into the opposite screen. The viewers are simultaneously caught in the middle yet able to watch as Fike and Harris slowly undermine each other's efforts to prepare a meal. The domestic space of each kitchen deteriorates from order to disorder as colorful foods smears across the counters, walls, and cabinets. Serving dishes are knocked off the counters and pickles land in house plants. When the food runs out, the scene slowly fades back to the beginning and the kitchens are magically reset, ready to endure all over again.
Food Fight production from Fike & Harris on Vimeo.
Press Coverage
Read a review of this exhibition by Theresa Anderson.
Listen to The Matthew Harris and Tobias Fike Interview by hosts Erik Isaac and Michael Keen on The Untitled Art Show.
---
Previous Exhibitions »