Current and Past Exhibitions and Events
Artists-in-Residence ~ Launch Pad 003: SECRETS and HERBS
Residency Dates: 1–31 August 2014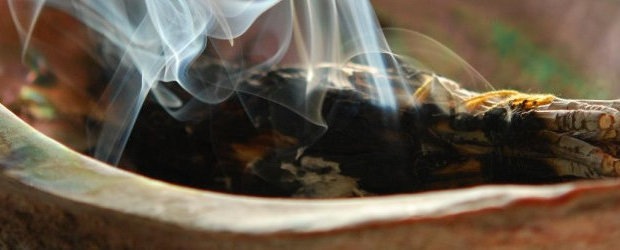 A series of events and exhibitions
curated by Petra Sertic and Alvin P. Gregorio
Secret Sessions
Saturday, 23 August 2014, 3–7 pm at VERTIGO Art Space
Meet privately with Petra Sertic and Alvin P. Gregorio to share your secrets and a cup of herbal tea.
The sharer of the most inspiring secret will be invited to develop a project for Launch Pad 003, to take place in Boulder, Colorado, on 4 October 2014.
Your anonymity will be protected and your secrets will be kept safe. Private sessions at undisclosed locations may be arranged.
Launch Pad is a flexible forum for the introduction of art, artists, and art enthusiasts. Focusing on universal, personal, or societal topics, each Mission presents artists and their recent work in the welcoming atmosphere of a private residence or public space.
Private Preview Party
Saturday, 30 August 2014, 7–11 pm at VERTIGO Art Space
by invitation only
must present secret token and password
Launch Pad 003: SECRETS & HERBS
Saturday, 4 October 2014 in Boulder, Colorado
with secret artists
details to follow
Public Review & Critique
of Launch Pad 003 series events
time & place to be determined
Contact
Petra Sertic: Email
Alvin P. Gregorio: Email
Please note that VERTIGO's normal hours are suspended during the month of the Artist-in-Residence program. Hours are set by the artists, so please contact the artists directly for scheduling and appointments.
---
Attract/Retract/Attract ~ Theresa Clowes, Sarah Scott, and Gretchen Marie Schaefer
Exhibition Dates: 26 June–2 August 2014
Artist Opening Reception: Friday, 27 June 2014, 6–9 pm
First Friday, 1 August 2014, 6–9 pm: the artists will be present to discuss their work.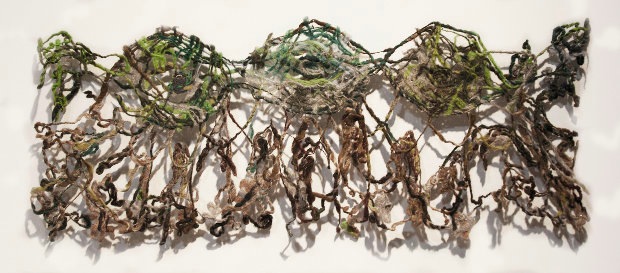 Theresa Clowes: felted lace drawing, 2014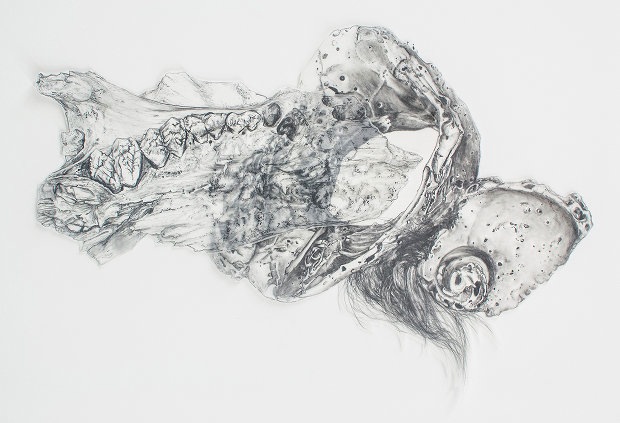 Gretchen Marie Schaefer: mixed media drawing, 2014
Attract/Retract/Attract investigates various aspects of nature and the inevitability of death, decay, and their cycles. All RedLine Alumni and founding members of TANK studio, Theresa Clowes, Sarah Scott, and Gretchen Marie Schaefer employ media in their work that includes felt, paper, graphite, and discarded objects. The artists create quiet, graceful meditations on contemporary relationship to nature and its undeniable ability to elicit discomfort. Although crafted with skill and beauty, the works nevertheless poke and prod at nature's underbelly.
Press Coverage
Read a review of this exhibition by Theresa Anderson.
---
American Place ~ A Sculpture Installation by Margaret Griffith
Exhibition Dates: 2 May–14 June 2014
Reception with the Artist: Saturday, 3 May 2014, 3–5pm
Born in North Carolina, Margaret Griffith is a Los Angeles based artist who uses the structures of gates and fences found in her community to create hand-cut paper sculptures, monuments to fragility and impermanence. She transforms the rigidity of steel structures into billowy forms; folded veils as sublime renderings of environmental boundaries, delicate reminders of the fiction of permanence.
VERTIGO Art Space is pleased to present Griffith's newest body of work, American Place. For several years Griffith has been photographing and replicating gates, exploring the metaphorical relationships of the gate, a symbol of protection and stability, to a fragile social impermanence in urban communities. The installation at VERTIGO consists of over thirty hand-cut paper replicas of gates found in her community that are suspended from the ceiling — twisting and turning, billowing and cascading to the ground. The process of recreating the gates becomes a dialogue of opposites, where actual gates are altered into forms that are gestural and more chaotic than the rigid structures from which they are derived.
About the Artist
Margaret Griffith has had numerous exhibitions throughout the United States and Europe. She received an MFA from Cranbrook Academy of Art in 2001 and is an Associate Professor of Drawing and Painting at Rio Hondo College. She is represented by Western Project, Culver City, California. Upcoming exhibitions include a two person exhibition at the Los Angeles Airport and a solo exhibition in September at Western Project. For more information visit www.margaretgriffith.com.
---
Previous Exhibitions »